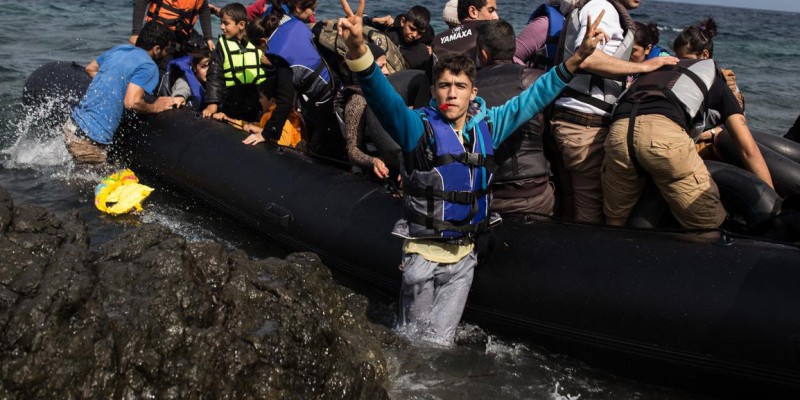 Athens, January 28, 2016/Independent Balkan News Agency
By Zacharias Petrou
The Greek government has found itself deep into yet another serious crisis in its difficult relations with its European Union partners.
This time the refugee crisis has come to the forefront with Greece facing the threat of being removed from the Schengen area by the EU if it doesn't comply with rules on border control.
According to a draft report by the College of European Commissioners, "Greece seriously neglected its obligations and that there are serious deficiencies in the carrying out of external border control that must be overcome".
European Commission Vice President Valdis Dombrovskis told a news briefing on Wednesday that Greece has three months to fix problems cited and get a grip on the refugee flows on the country's borders or face new border controls by other members.
Migration and Home Affairs Commissioner Dimitris Avramopoulos said the draft Schengen evaluation report on Greece "showed serious deficiencies" but that the situation has started to improve. "Substantial improvements are needed to ensure the proper reception, registration, relocation or return of migrants in order to bring Schengen functioning back to normal" the Commissioner added.
Greek Prime Minister Alexis Tsipras, who is in Tel Aviv on an official visit, commented that "Greece will be fully prepared next month to deal with the refugee flows and it remains to be seen if Europe too will live up to its commitments".
The Greek PM argued that Greece has been facing huge pressure on its smaller islands in the northeast Aegean in recent months, which he described as the largest population movement since World War II.
Tsipras refused to be dragged into a blame game and pointed out that "some bureaucrats in Brussels" who don't understand Greece's stance also fail to understand the international reality which has been repeatedly documented.
Athens believes that the key to managing the refugee crisis lies in Turkey and the proper implementation of an agreement the neighboring country has with the European Union. The EU has offered Turkey 3.2bn euros to better police smugglers on its shores; the deal has failed to stop the flow of migrants and refugees, with Greek islands still under enormous pressure.
More than 850,000 migrants and refugees arrived in Greece last year and a further 44,000 have reached the Greek islands since the start of 2016.
Some European member-states, however, continue to criticize the Greek government's handling of the crisis. Primarily Germany, Austria and northern European countries maintain that Greece should be excluded from the Schengen zone unless it did more to control its southern as well as northern borders.
Earlier this week, it was revealed by the media that European Commission President Jean-Claude Juncker backed Slovenia's proposal for EU support to reinforce the FYROM border with Greece to stem the flow of migrants; most migrants who got to Greece would stay in place, taking pressure off transfer countries under the proposal.
Meanwhile, on Wednesday Greece's migration minister Yannis Mouzalas dismissed a Belgian proposal to build a camp for 400.000 migrants in Greece as "dangerous nonsense".