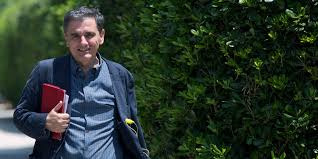 Greek Finance Minister, Euclid Tsakalotos, expressed optimism on Wednesday that Athens is on track to conclude the review of its bailout program, despite negotiations currently being on hold due to the differences of opinion between the International Monetary Fund (IMF) and European creditors over the goals of the program.
"If we continue exceeding targets like we have been doing and the IMF continues to make wrong projections, the only thing we are left to do is offer them technical help" Tsakalotos sarcastically commented on Greece exceeding its 2.4 million euro primary surplus target.
Provisional end-of-year figures released by the Finance Ministry showed a primary budget surplus of approximately 4.4 billion euros in 2016, the target set by 1.8 billion euros. The impressive performance was, however, largely based on excessive taxation.
The provisional data for 2016 show the primary surplus amounting to 4.39 billion euros, against 2.27 percent in 2015 and a 2016 target of 1.98 billion. In December revenues reached 6.026 billion euros, beating their target by 114 million.
Meanwhile, Prime Minister Alexis Tsipras told MPs on Wednesday that "the exit from the program in mid-2018 is visible" adding that he expected the second review to be wrapped up without the need to legislate new austerity measures beyond 2018.
The government hopes that the swift conclusion of the review will allow it to be considered for inclusion in the European Central Bank's (ECB) quantitative easing (QE) program, allowing it to test bond markets in 2017.
So far, clarity over the IMF's role in the Greek bailout program is not expected before February. This further perplexes the current standoff as long as the Washington-based Fund remains adamant that the Greek primary surplus goal should be brought down to 1.5% of GDP, to which Greece's European creditors strongly object.  Alternatively, according to the IMF, Athens will have to adopt additional measures of approximately 4.5 billion euros. The Tsipras administration wants to avoid taking such measures and has reportedly suggested an extension of the so called "fiscal cutter".
A German Finance Ministry spokesman said Wednesday "we still expect IMF participation. For us, this participation is promised and necessary." The statement refuted a report by German newspaper, Bild, earlier which suggested that Finance Minister Wolfgang Schaeuble was preparing for the event of the IMF exiting the Greek program./ΙΒΝΑ