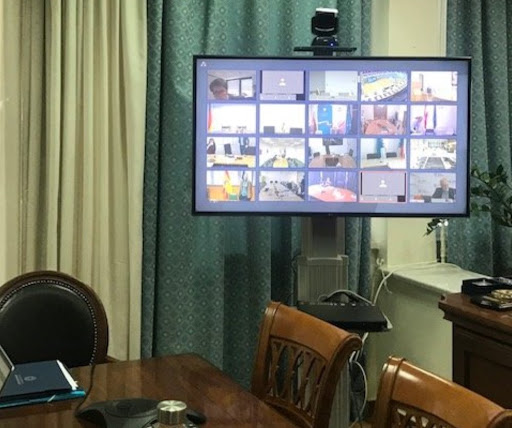 The landscape of the Greek economy remains blurry as the coronavirus keeps spreading. Meanwhile, as HSBC announced its revised estimates for a 6% recession this year in Greece replacing the initial forecast of a 2.3% growth, any interventions at European level in view of tomorrow's Eurogroup are still in the negotiation stage.
The eurozone is considering a line of credit with some interpreting it as measures, others as more… gentle measures, while others as no measures at all. There is no comprehensive future plan by the government either other than immediate, yet not bold, measures. In the midst of such developments, data from the Centre of Planning and Economic Research (KEPE) show that in March the "fear" index in the Greek market "went through the roof" due to the increased uncertainty in the middle of a pandemic. From 32.37% at the end of February, it skyrocketed to 48.94% on March 31, having reached its 2020 apex of 61.55% in between, on 13 March. In fact, as noted by KEPE, the economic implications of the suspension of most activities in the country are expected to affect the course of the index from the integration of data for March 2020 onwards.
Issues with the measures
Regarding tomorrow's Eurogroup agenda, government spokesman Stelios Petsas told political editors yesterday that Athens is expecting sympathy among partners for low-interest and non-binding funding of any necessary actions for all European Union member states.
In particular, referring to the budgetary costs of the government's plan, he explained that it already amounts to 6.8 billion Euros or 3.5% of GDP, higher than the European average of 3% of GDP. It should be noted, however, that almost parallelly with the statements regarding huge amounts, SYRIZA leader Alexis Tsipras presented a multi-level program for the economy, which amounts to 26.3 billion euros.
Regarding tomorrow's Eurogroup meeting, Stelios Petsas said "We expect to find common ground, in order to finance the necessary actions for all EU member-states with low interest rates and without binding terms".
The impact on tourism
Meanwhile, HSBC announced its forecast of a 6% recession for the Greek economy against the previous projection of a 2.3% "V" type (ie rapid recovery) strong growth for 2021, with a 5.8% growth instead of 2.1%.
HSBC estimates that the sector that will be most negatively affected is tourism, where a 50% reduction will result in a shrinkage of at least 5% in GDP. /ibna