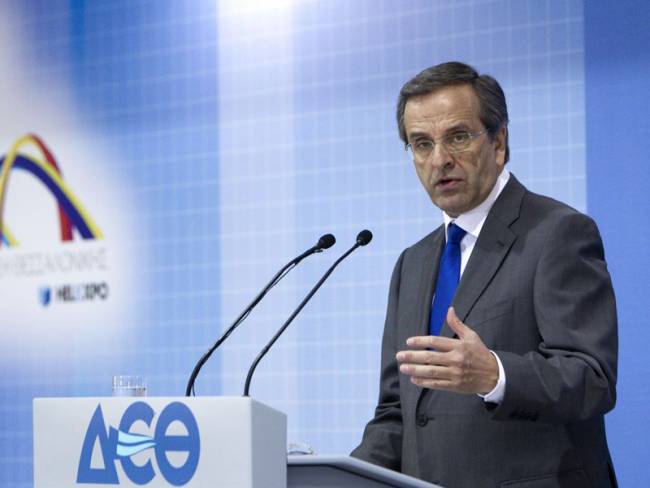 By Lefteris Yallouros – Athens
After Greek Prime Minister Antonis Samaras told a Thessaloniki International Fair (TIF) audience on Saturday that calling an early general election would be suicide, deputy PM Evangelos Venizelos was in full agreement during a press conference at the Fair, saying his intention was for the coalition government to complete its four year term.
Evangelos Venizelos mentioned that the next few months until the election of the President of the Republic will be a critical period for the future of the country, adding that the sacrifices of the Greek people should not go to waste.
"The real dilemma is whether we will be able to capitalize on the sacrifices of the Greek people or whether we will jeopardize everything at the risk of sinking again, well below zero" he mentioned.
Venizelos went on to say that tax breaks announced by the PM a day before were agreed upon beforehand with himself and were part of the coalition's efforts to promote growth and boost the income of households and businesses most affected by the long recession and harsh austerity.
The government will reduce consumption tax on heating oil by 30 percent, as well lower a unified property tax (ENFIA) and the solidarity tax on incomes.
The PASOK leader said his party has formed an "honest collaboration" the conservatives of New Democracy, despite being "two completely different political entities" while accusing main opposition SYRIZA of being opportunist and heralding destructive policies for the economy and the country.
Describing a national strategy which PASOK promotes and the government is determined to follow, Venizelos spoke of five pillars: The exit from the memorandum with Greece's lenders; political and institutional stability; the coming together of the country's creative forces to raise employment; the support for vulnerable groups of society; and Greece's return to self-reliance.
Coalition partners Samaras and Venizelos are keen to show that Greece has made great strides towards economic recovery and returning to growth but the reform effort and the sacrifices suffered by the people should not go to waste. Both leaders will up their attacks on the main opposition party and its leader Alexis Tsipras leading up to the Presidential vote in Parliament early 2015, in case an early election could not be avoided.
Observers point out political debate in Greece is to take a pre-election character over the next few months as SYRIZA pushes for an early election and the coalition government seeks for a presidential candidate that can secure the 180 votes necessary to be voted President of the Hellenic Republic by Parliament. The tax breaks announced are evidence enough that Greece has indeed entered an unofficial pre-election period.