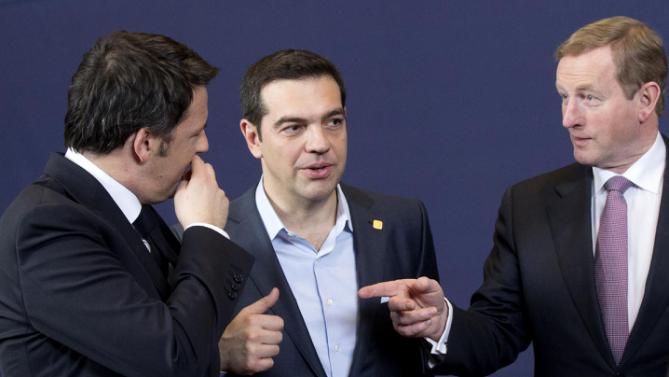 Athens, February 13, 2015/ Independent Balkan News Agency
By Lefteris Yallouros
After attending his first European Union summit on Thursday, Greek Prime Minister Alexis Tsipras said the first step was made towards reaching a mutually acceptable agreement over the future of Greece's international bailout.
The Greek premier told a press conference the technical details of a solution to the Greek issue will be ironed out by the next Eurogroup meeting on Monday, February 16, by Greek officials and representatives of the European Commission, the European Central Bank and the IMF.
Tsipras argued both the troika and bailout memorandum were a thing of the past and that Athens will agree a new deal with its European partners that will respect EU rules as well as the will of the Greek people. The new agreement will include reform measure, Mr. Tsipras added.
"(We) agreed today to ask the institutions to engage with the Greek authorities to start work on a technical assessment of the common ground between the current program and the Greek government's plans," Eurogroup chief Jeroen Dijsselbloem said earlier.
Greece's move towards a new financial arrangement with creditors will ease pressure on the country's banking system which has liquidity issues. The ECB's Governing Council also extended a cash lifeline for Greek banks for another week, authorizing an extra 5 billion euros in emergency lending assistance. The council decided in a telephone conference to review the program on February 18.
Meanwhile, German Chancellor Angela Merkel said after meeting Tsipras for the first time that Greece's bailout program is still in effect, though it should be prolonged. "It is my conviction that now is the time to wait in anticipation of mutual proposals" the Chancellor added.
Angela Merkel reportedly congratulated Alexis Tsipras on his election and said: "I hope we will have good cooperation despite the difficulties." Mr Tsipras replied: "I hope so."
The decision to work closely with lenders on a new deal that will involve expected reforms and keep the country's budget balanced will end talk of a possible Grexit which resurfaced over the last few weeks. Replacing the troika-led adjustment program reviews with a new monitoring procedure of Greece's bailout obligations will be portrayed as a victory by the Greek side. However, as J. Dijsselbloem pointed out, "expectations should not be high on the issue of Greek debt", which the Greek PM promised would be slashed in the run up to last month's election. Reversing austerity measures – which was also a pre-election pledge – will also be a difficult task and will be determined by what the new agreement between Greece and its lenders will actually entail.