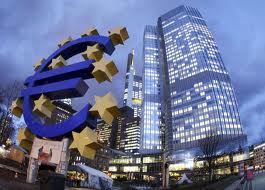 By Lefteris Yallouros – Athens
Hopes that Athens may be helped to plug a funding gap next year by the European Central Bank agreeing to roll over Greek bonds have been dashed. The estimated EUR 11 billion funding gap for 2014-15 will need to be addressed otherwise when the country's bailout loans end in the second half of 2014.
"We must find a way to close this financing gap and there is absolutely no way that it can be done in a way of rollover bond or whatsoever which results in monetary financing," Asmussen told reporters in Luxembourg.
"This is not possible for the ECB and not for the whole euro system."
The ECB and other euro zone central banks hold a nominal 19 bln euros of Greek bonds, of which 10 bln matures in 2014.
Greece's creditors – mainly the EU and the IMF – have agreed to look into the bloc's 17 national central banks replacing some of the Greek bonds they hold with new Greek paper as the debt matures.
This measure, called the "rollover of ANFA holdings", it was thought it might spare Greece from having to redeem 3.7 bln euros of debt in 2013-2014 and 1.9 bln euros in 2015-2016.
Using any money left over from the 50 billion euros borrowed for the recapitalization of Greek banks was also thought to be an option.
Meanwhile, the financial analysts of Eurobank believe this may be a good opportunity for Greece to negotiate debt relief with its EU counterparts.
In a report published Tuesday, Eurobank says the Greek government should focus on reforms and stick with meeting obligations outlined in its stabilization program which has been progressing well recently.
The Greek bank's analysts believe a third bailout deal is on the cards for Greece and it is up to the country's government to use recent strives made in the economy to its advantage.