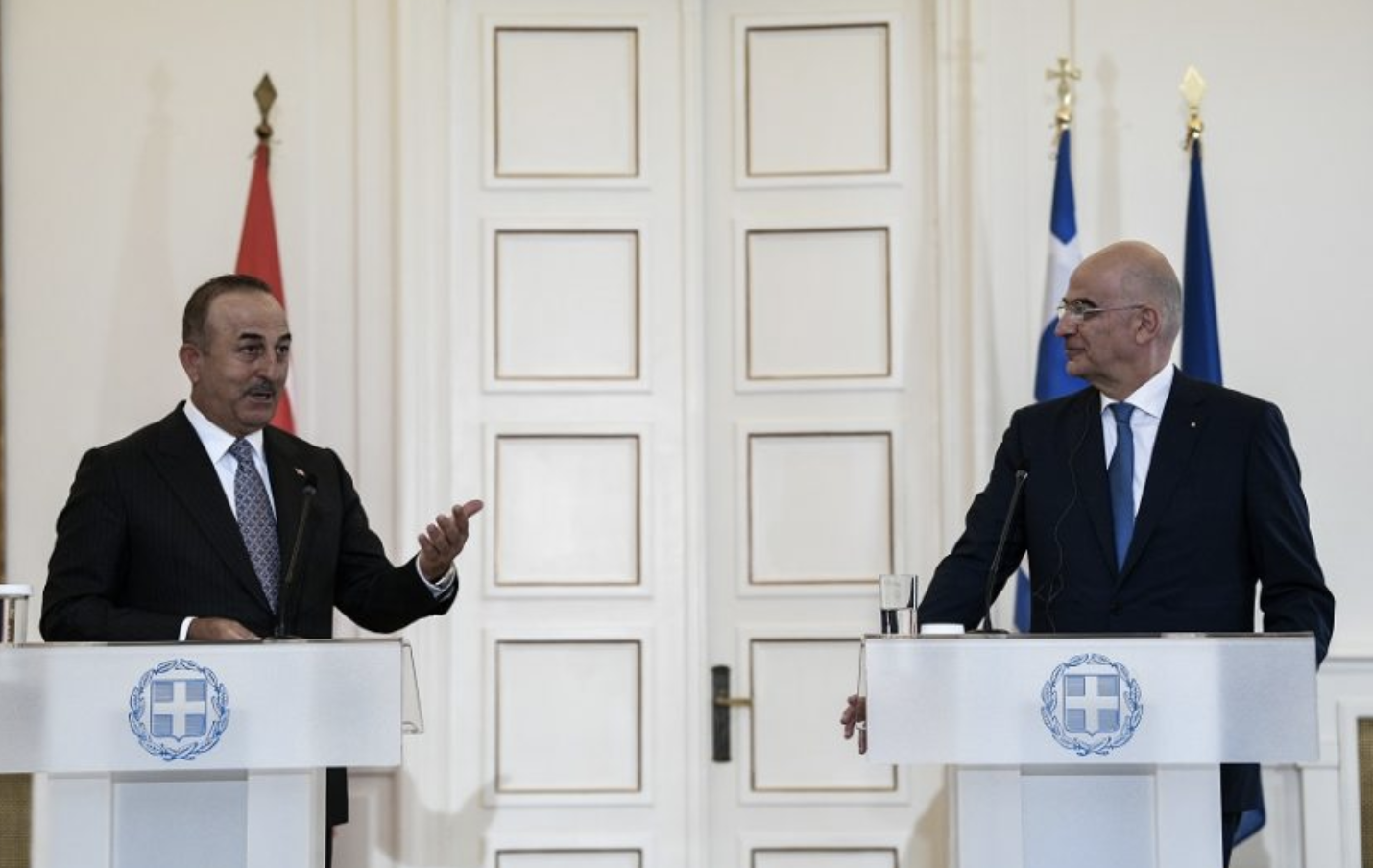 Foreign Minister Nikos Dendias, after a meeting with his Turkish counterpart Mevlut Cavusoglu on Monday, said that "the purpose of our meeting today was to attempt a process of reaching an initial understanding and, if this becomes possible, to gradually normalise the situation in the long-term."
The Greek foreign minister also said that Monday's meeting was an opportunity to agree on a meeting between Prime Minister Kyriakos Mitsotakis and President Erdogan on the sidelines of the NATO Summit on June 14.
Dendias said the discussion had covered all issues concerning bilateral relations, but also EU-Turkey relations, and noted that both Greece and Turkey are fully aware of the different and in some quite serious issues diametrically opposed positions they each advocate.
In this context, Dendias stated, a limited list of economic cooperation programmes was agreed. They also agreed on the mutual recognition of Covid 19 certificates, so that the citizens of both countries who have been vaccinated or have a negative test can visit the other.
Turkey's Foreign Minister Mevlut Cavusoglou, in statements after a meeting with Greek Foreign Minister Nikos Dendias on Monday, said that he was happy to be back in Greece after a long time.
Cavusoglu stated that Turkey wants to be able to continue its relations with Greece without conditions and prerequisites. In addition, he claimed that "together with Nikos Dendias we agreed that this very positive cooperation will continue."
Referring to the talks he had with Dendias and the meeting with Prime Minister Kyriakos Mitsotakis, Cavusoglou said that they had the opportunity to assess bilateral issues. In particular, he said Ankara had decided to speed up bilateral negotiations on economic and trade issues and he made special reference to the meeting between Deputy Foreign Ministers Kostas Fragogiannis and Sedat Onal in Kavala on Saturday.
"There were 25 agreed points through which we could enhance our cooperation in economic and trade matters," he added. The Turkish foreign minister noted that all the memoranda of cooperation and the mechanisms to be established in order for this cooperation to proceed, "finds us in total agreement."
He further stressed that there is political will on the part of Turkey and expressed his satisfaction that he sees the existence of the same good will on the part of Greece.
Cavusoglu noted a decision to mutually recognise the vaccination certificates issued by each country for travel, expressing the belief that this agreement will have a very positive impact on both tourism and other issues.
Regarding political and military cooperation between the two countries, the Turkish foreign minister noted that the 62nd round of exploratory contacts took place in Athens and announced that a date will be set for the next meeting. He also said that a 4th conference on confidence-building measures has been held via video conference, noting that efforts are ongoing.
He pointed out that a meeting of the leaders of the two countries is planned on the sidelines of the NATO Summit. "It is clear that there are many issues that are pending, that are waiting to be resolved and we both believe that the basis of this resolution must be respect for the law and common interests," he added./ibna
Source: AMNA