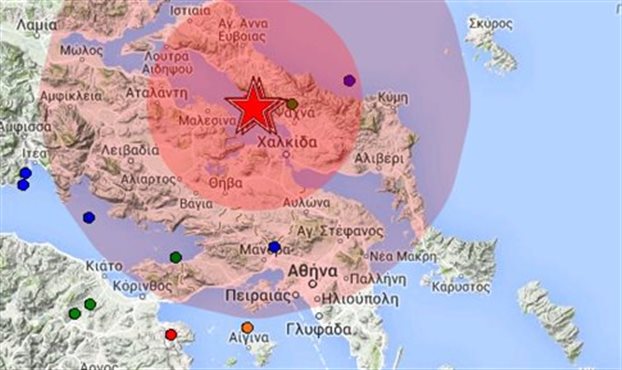 By Spiros Sideris – Athens
The dual powerful earthquake that occurred at dawn in northern Evoikos sea area, apart from causing great concern to citizens, also brought turmoil to the scientific community of seismologists.
Once again, seismology professors and researchers disagree on whether it's the main earthquake, or whether there is a larger one coming.
At the same time, the double earthquake also rattled the State mechanism, as the Minister of Public Order Bill Kikilias convened a meeting at the ministry for the coordination of the departments involved in the field of seismic activity. Circles of the ministry, however, said that there are no concerns about an impending earthquake and that the meeting takes place in the framework of the readiness check of the State mechanism.
Although most seismologists and researchers appear reassuring, the Akis Tselentis, Kostas Papazachos and Elias Chiapas expressed the view that the seismic activity is not over and that perhaps there will be a new earthquake.
Specifically, the researcher seismologist Elias Chiapas, speaking in parapolitika.gr, said that "on November 23 there will be another great earthquake in Greece, from 5.1 up to 5.6 on the Richter scale. Indeed, Chiapas stated that "the next earthquake that is likely to hit the country will come a few days later, on December 6, and will be 6.2 on the Richter scale".
Professor of Geology and president of the Earthquake Planning and Protection, Efthimios Lekkas told journalists shortly after the phenomenon, that the earthquake of 5.1 on the Richter scale was felt mainly in central Greece, adding that it is comforting that there were four earthquakes, which means that there is a diffusion of the phenomenon and shows that we are dealing with a large main earthquake.
Lekkas also said that the double earthquake did not appear to have activated any other neighboring rifts, as this is typically after major earthquakes of at least 6 on the Richter scale.