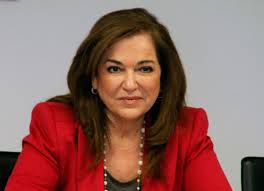 By Spiros Sideris – Athens
New 'spikes' against the economic and fiscal policy of the government unleashes Dora Bakoyanni, while at the same time, looking at the faction's disgruntled voters, 54 New Democracy MPs ask from the minister of Labour,  Giannis Vroutsis, that freelancers – debtors to OAEE to not lose their pension rights.
After 10 months of resounding silence regarding parliamentary scrutiny, the region MP of the largest government party returned yesterday by submitting a question to the Ministers of Finance Gikas Hardouvelis, and Development Nikos Dendias, on the tragic delays in repayments of the State's liabilities.
Mrs. Bakoyannis says that timely payment of the obligations of the state and the non-accumulation of arrears is among other things a memorandum obligation, which the government "forgets to keep". She also states that in this way, "after the extreme and irrational overtaxation that kills businesses and taxpayers, the State contributes further to the reduction of liquidity in the market", and therefore calls for the immediate response from the competent ministers as to what they intend to do to, so that the greek State stop being "the greatest and most inconsistent debtor".
On the side of the ND MPs aho have submitted the question for the debtors of OAEE, former minister Maximus Charakopoulos notes that it is "unacceptable workers being prevented from retirement if they can no longer pay their insurance contributions, losing what they have already paid. They should receive pension according to the years of work, as many as they are".