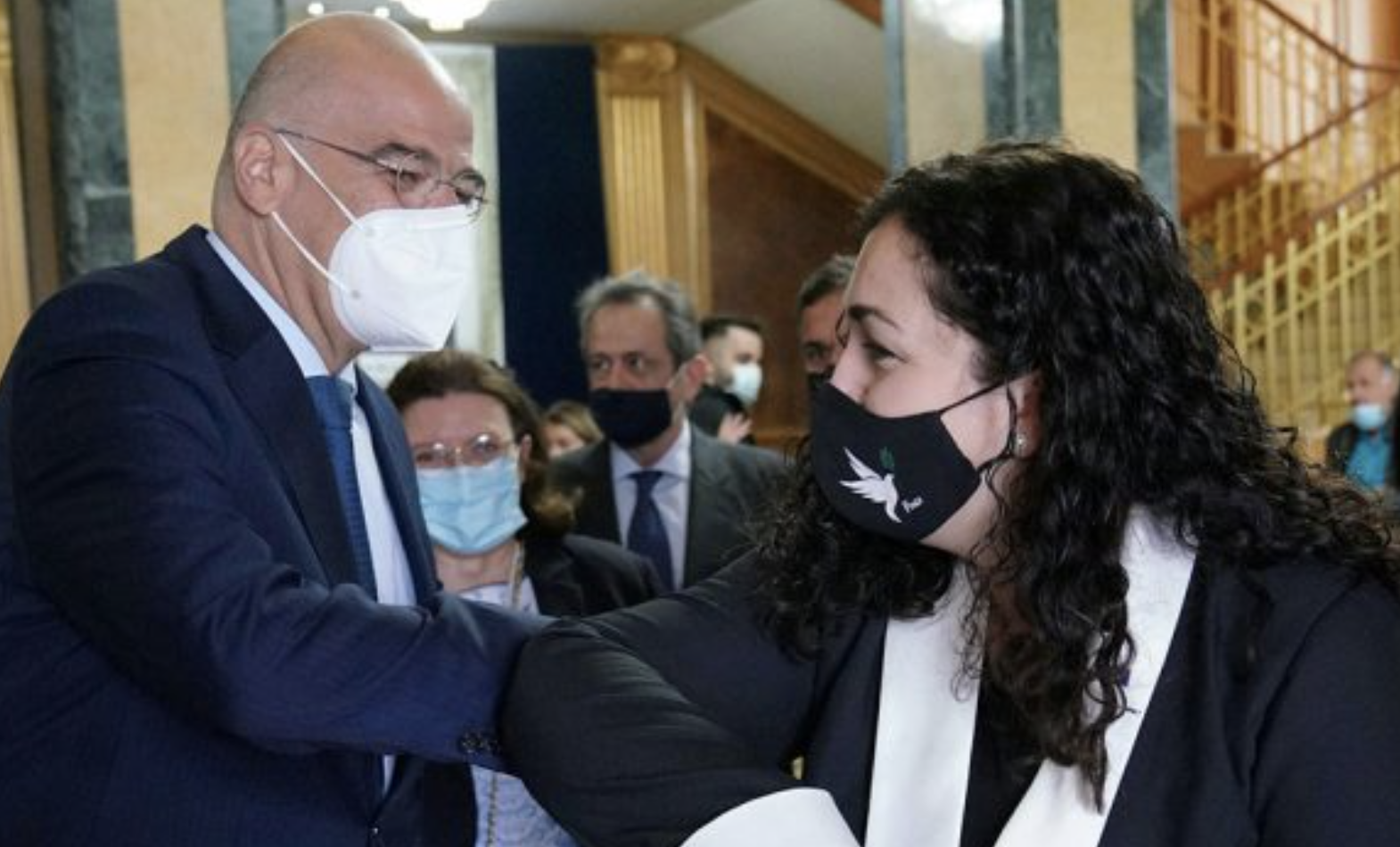 Deepening of economic, trade cooperation between Kosovo and Greece and announced visit of Greek Foreign Minister Nikos Dendias, have concerned Belgrade and its President, Aleksandar Vucic, who see these moves as Greece getting closer to recognition of Kosovo's Independence.
But despite cooperation between Pristina and Athens, Greece's stance towards independence of Kosovo remains unchanged. This is what Foreign Ministry of Greece told Gazeta Express in a written statement. "As you are well aware of, Greece does not recognize Kosovo and its position remains unchanged," according to the statement.
But regardless this, Greece Foreign Ministry says that Athens has pursued a constructive approach towards Pristina, mentioning cooperation in economic development and supporting Kosovo in various fields.
"At the same time, it is equally well known that Greece has pursued a constructive approach towards Pristina, hosting since 2019 an "Office of Trade and Economic Affairs of Kosovo in Athens" and works with Kosovo for the enhancement of the cooperation in various fields," the Foreign Ministry of Greece said. The Minister of Foreign Affairs of Greece, Nikos Dendias, paid a visit to Pristina last October, giving a boost to bilateral cooperation, putting emphasis on the economic field, including trade and energy, the Foreign Ministry recalls.
"Aiming at further enhancing this cooperation, contact points were appointed i.e. Deputy Foreign Minister Mr. Fragoyannis and his counterpart, at the time, Deputy Foreign Minister Mr. Brajshori and had a teleconference. As a follow up, the 4th Greece-Kosovo Business Forum was held on April 20th, virtually, due to the health crisis," according to Foreign Ministry of Greece.
The Foreign Ministry mentions scheduled visit of their minister Nikos Dendias who expected to visit Kosovo during this month, explaining that the visit is in the light of the recent formation of a new government.
The Foreign Ministry recalls that Greece is supporting Kosovo in its European path and in this context is also supporting visa liberalization. "Greece is also contributing a considerable number of members of the Hellenic Forces to the KFOR," according to a statement of Greek Foreign Ministry.
"As a longstanding member of the EU (1981) and NATO (1952), Greece pursues the consolidation of peace, democracy and stability, security and economic development, as well as the rule of law in the Western Balkans' region, through the establishment of good neighbourly relations and respect for the basic principles of international law. On this background, Greece has been a strong supporter of the European perspective of all the Western Balkan partners, including Pristina, as well as of the Belgrade-Pristina Dialogue facilitated by the EU," the Ministry of Foreign Affairs said in a written statement./ibna