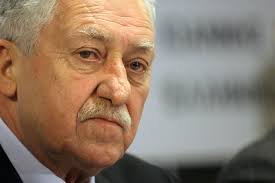 By Spiros Sideris – Athens
Immediate start of the parliamentary procedures for the Constitutional Revision requested DIMAR with a timely question to the Minister of Justice Charalambos Athanassiou.
The text, which is signed by the president of the party Fotis Kouvelis includes the key positions of DIMAR for the changes in the provisions of the constitution, including the fragmentation of large electoral districts, the establishment of mechanisms to avoid early elections and the increase of the powers of the President of the Republic.
Signatories note that if the process does not start immediately, it will "mean, necessarily, that the political and institutional necessary constitutional revision will be suspended for an unacceptably long time. DIMAR believes that any further delay, since all political forces have found weaknesses and the need to revise certain provisions, ultimately works to the detriment of the functioning of the political system and Democracy itself".
The provisions that need to be revised are as follows:
DIMAR has many times expressed the party's proposals on what constitutional provisions should be introduced in the foreseeable institutional debate in Parliament with a view to be revised.
Foremost among these are:
The electoral system
Transparency in party financing
Responsibility of Ministers
The immunity of MPs
Complete separation of powers
The powers of the President of the Republic
Referendums
Control of the operation of SMEs
The strengthening employment and social rights
The repeal of Article 86 c (criminal liability of members of the government)
It also raises questions as the establishment of a constitutional deterrent mechanisms for the avoidance of the early termination of the four-year mandate, the number of MPs, the incompatibility between ministerial and parliamentary functions, the selection of the leadership of the Supreme Courts of the country, and the relations between Church and State.