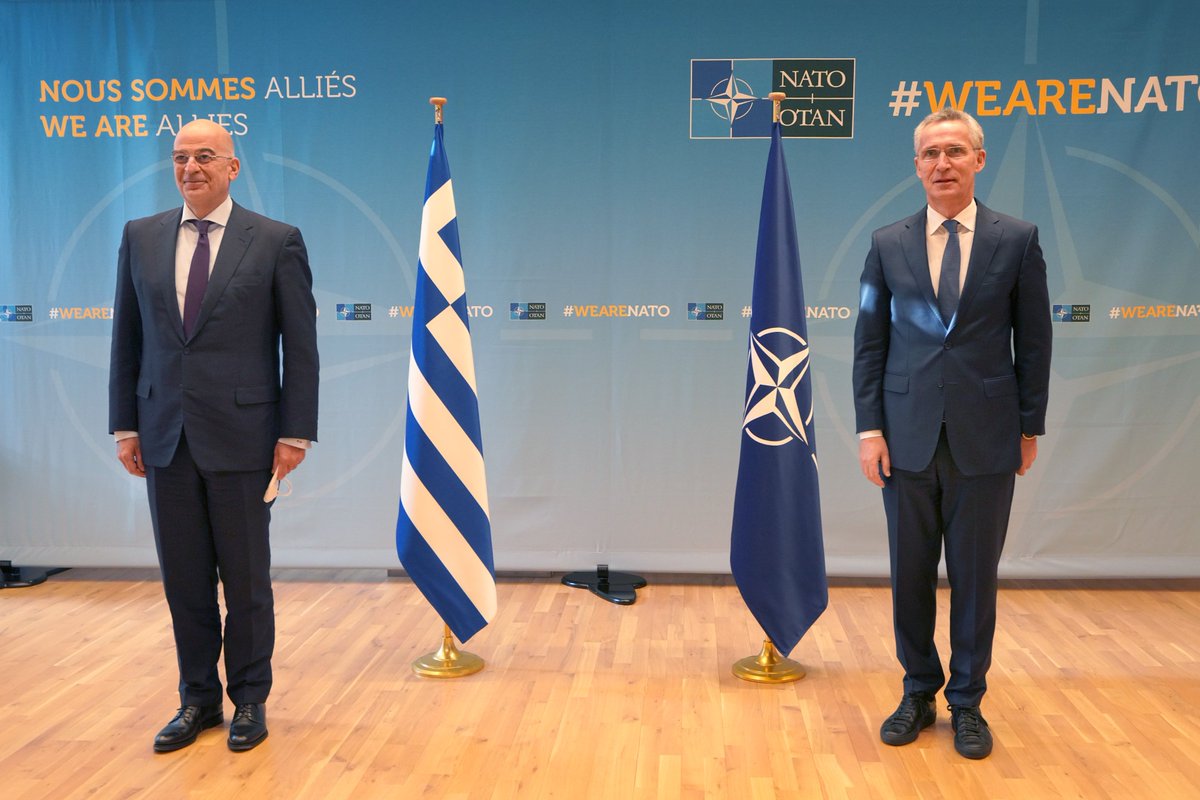 Greek Foreign Minister Nikos Dendias met with Belgian Foreign Minister Sophie Wilmes and NATO Secretary General Jens Stoltenberg.
In a statement, the Belgian Foreign Ministry says with regards to the meeting that "on Tuesday, January 26, Deputy Prime Minister and Foreign Minister Sophie Wilmes met with Greek Foreign Minister Nikos Dendias during his visit to Brussels. The two Ministers were able to exchange their experience on the management of the COVID-19 pandemic in their respective countries and their views on important European issues.
During this meeting, Belgium, through its Foreign Minister and Deputy Prime Minister, reaffirmed its support for its European partner on tensions in the Eastern Mediterranean. The return to the dialogue between Greece and Turkey for the settlement of bilateral disputes and the recent constructive attitude of the latter are two developments that are encouraged by Belgium and which are likely to lead this issue to a positive development.
Finally, this meeting was an opportunity for Belgium to consider an official mission to Greece in the spring of 2021, in order to strengthen bilateral ties between the two countries, subject to developments of the situation with the pandemic".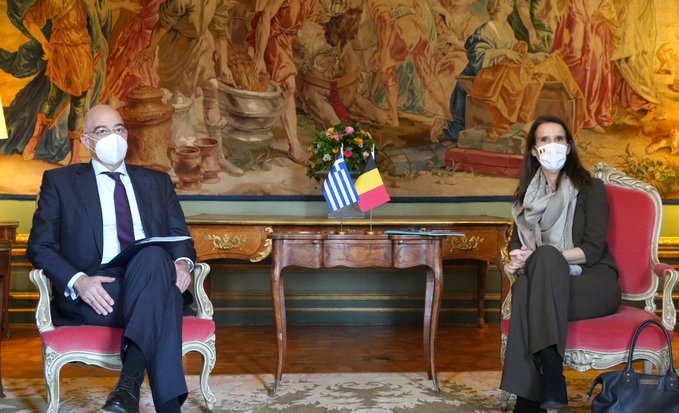 According to the NATO statement, during Jens Stoltenberg's meeting with Nikos Dendias at the Alliance's headquarters, they shared views on various issues, such as the situation in the Eastern Mediterranean, the NATO Secretary General 2030 initiative and Libya.
The Secretary General expressed his satisfaction with the continuation of talks between Greece and Turkey on the military de-escalation mechanism in the Eastern Mediterranean mediated by NATO. "I am pleased to see that tensions have eased significantly since my visit to Ankara and Athens last October, and I hope we can continue to further develop the de-escalation mechanism", Stoltenberg said, adding that "the exploratory talks that took place yesterday in Istanbul represent a step in the right direction to resolve the underlying issues".
Regarding NATO's 2030 initiative, the Secretary-General said: "I intend to make a number of recommendations for further strengthening the transatlantic link – through close and regular consultation with the 30 Allies – including how to strengthen NATO's resilience efforts, increase investments in new and groundbreaking technologies, strengthen NATO 's political role and capacity to defend rule-based international order, and forge closer cooperation with similar democracies, including Asia – Pacific".
Regarding Libya, Jens Stoltenberg stressed that the Allies are closely monitoring political developments and welcome the progress made at the UN-led Libyan Political Dialogue Forum. He reiterated NATO's long – standing position that the Alliance remains committed to advising on the development of defense and security institutions, taking into account security policies and conditions.
The Secretary-General also thanked Greece for its significant contributions to NATO operations, including in connection with NATO Permanent Naval Team 2 and KFOR support missions in Afghanistan and Kosovo, respectively./ibna