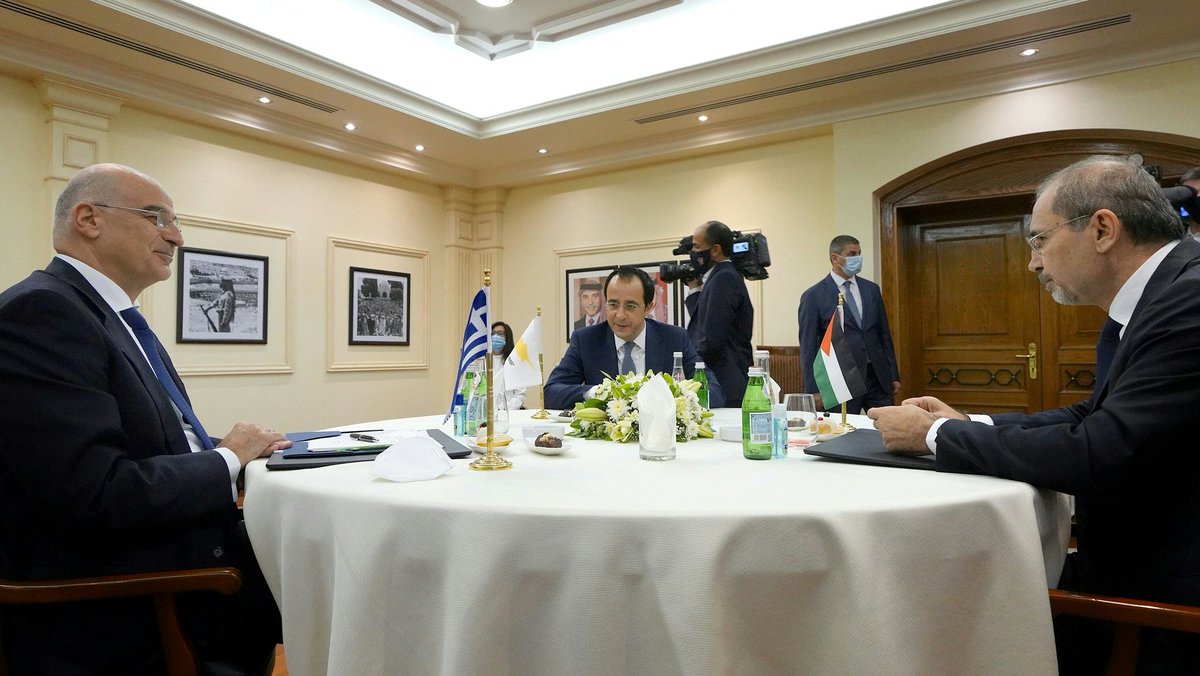 Foreign Affairs Minister Nikos Dendias attended today the 4th meeting of the Ministers of Foreign Affairs of the tripartite cooperation between Greece, Cyprus and Jordan in Amman, this being the first in-vivo conference in a while. In this context, according to diplomatic sources, the Foreign Minister stressed in principle that the Greek Prime Minister is looking forward to organizing a Summit of tripartite cooperation in Athens within the first half of 2021.
Cooperation is now taking on a new dimension, with the proposal to expand the agenda to cover not only issues related to the economy and tourism, but also -and this is particularly important- the promotion of military cooperation and cooperation in the field of information. In this context, it was agreed to organize a joint meeting of the Ministers of Foreign Affairs and the Ministers of Defense in the near future.
At the same time, according to the same sources, it was decided to de facto expand the scheme by organizing a joint visit of the three foreign ministers to Iraq, possibly with the participation of the Egyptian Foreign Minister. It was emphasized that the countries of the wider region should not necessarily rely on third parties such as the United States to settle the various issues in the region, but rather should launch joint initiatives in order to convey a clear message to promote peace and stability.
This axis also includes the initiatives by the Minister of Foreign Affairs for the strengthening of Greece's bilateral relations with various countries in the region, which had been anemic for several years. The various multilateral schemes are also expected to reinforced with the addition of new members. A key feature of these schemes refers to the fact that they are inclusive, as long as the parties respect fundamental rules such as international law and the territorial integrity of states.
It is noteworthy that even Jordan, which refrains from adopting public positions on developments in the Eastern Mediterranean, has expressed its full commitment to the principles of international law and the peaceful settlement of disputes based on these principles, diplomatic sources report.
Turkey was at the epicenter of talks, as the Foreign Minister highlighted its illegal activities in the Eastern Mediterranean, making special reference to the casus belli, while his Cypriot counterpart referred to the provocations within the Cypriot EEZ and Varosha.
Two more dimensions with regard to the Turkish behavior were also of interest. The first one refers to Turkey's attempt to appear as a guardian of all Muslims, contrasting in this context the role of the King of Jordan in the protection of Muslim holy sites in Jerusalem; the second one concerns the destabilizing role that Turkey plays in the internal developments of the countries in the Arab world by endorsing the Muslim Brotherhood, with Libya as the most recent example.
Finally, a clear distinction was delineated between Jordan, where 30% of the total population are refugees, mostly from Syria and Iraq, compared to Turkey, which uses the migrant-refugee tool as a lever to exert pressure on European countries. /ibna