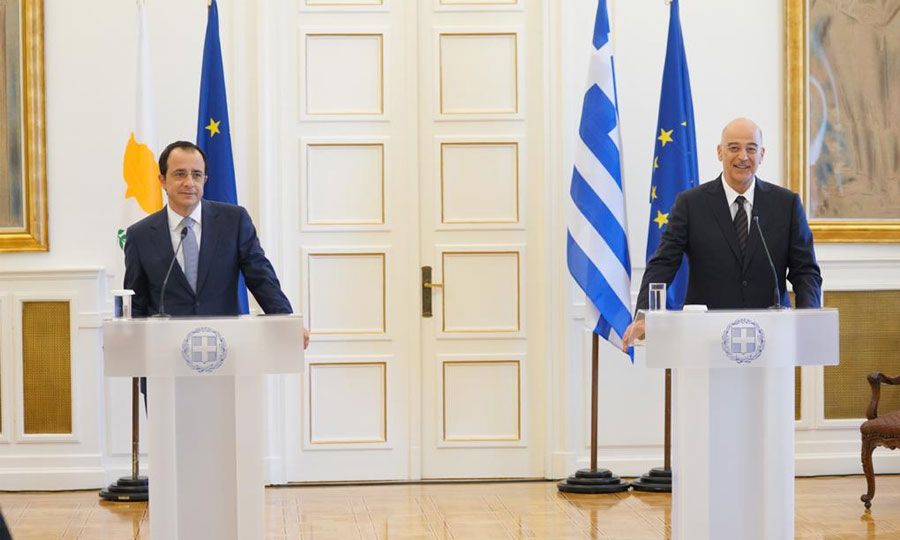 Greek Foreign Minister Nikos Dendias received his Cypriot counterpart Nikos Christodoulides in Athens on Friday (July 3rd).
The two men discussed Turkey's activity and their response at European level with the EU Foreign Affairs Council just around the corner, the latest developments in the Cyprus issue and co-operation between the two countries in the Eastern Mediterranean.
In his statements after the meeting, Nikos Christodoulides stressed that Greece and Cyprus had long pointed out that the policy of appeasement when it comes to Turkey would lead to an unprecedented escalation of its revisionist, as he described it, behavior. "I am convinced that this is not the time for big statements. Consistency and determination are needed because those moments are crucial", Mr. Christodoulides noted, emphasizing at the same time that the discussion that will take place on July 13 at the Foreign Policy Council on Euro-Turkish relations "will not be the end, but just the beginning in determining the EU stance on the matter".
At the same time, the Minister of Foreign Affairs of Cyprus noted that a very constructive discussion was held with Nikos Dendias on the coordination of the actions of the two countries and on the Cyprus issue, reiterating the readiness of the Greek Cypriot side to resume talks, as "the current situation is unacceptable for us". Finally, he announced that on July 14, President Nicos Anastasiades will be visiting Athens for contacts with the Greek leadership.
For his part, Nikos Dendias stressed that Greece and Cyprus remain committed to international law and UN resolutions, stressing Athens' determination against Turkish delinquency. "If Turkey thinks it can turn Greece into an island of a Turkish lake, they better think again", the Greek foreign minister said, referring to Ankara's intentions to conduct explorations in the region. "Turkey is deaf and continues to provoke. If the explorations that have been announced end up being carried out, that will mean the opening of the Ascle of Aeolus", the Greek Foreign Minister added.
At the same time, Nikos Dendias stressed that Greece and Cyprus, as EU Member the sovereign rights of which are repeatedly violated, have raised the issue at European level and stressed that the July 13 discussion is particularly important, as Turkey's stance constitutes a violation of European principles. "I hope that Turkey will see that its best chance lies not in illegitimacy or the policy of gunboats, but in international law and close to or within the European family", said Nikos Dendias.
Finally, regarding the Cyprus issue, Nikos Dendias stressed that it constitutes a top-shelf national issue for the Greek government, stating once again Athens' call for the resumption of talks and a solution to the problem, without occupying troops and a guarantee regime.
Afterwards, Nikos Christodoulides was received by the Greek Prime Minister Kyriakos Mitsotakis. /ibna