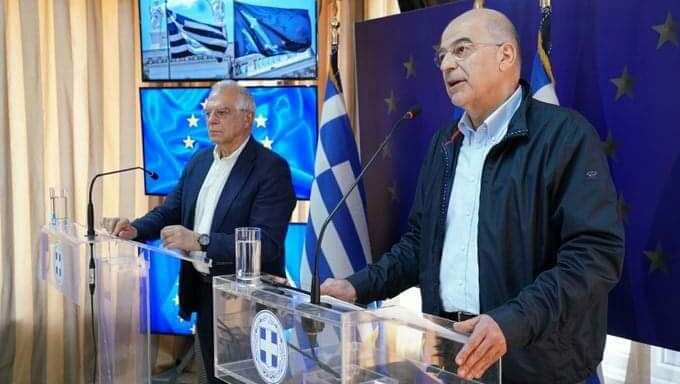 The EU High Representative for Foreign Affairs and Security Policy, Josep Borrell, was received on Wednesday (June 24th) by Greek Foreign Minister Nikos Dendias, with whom he visited the Kastanies region in Evros, where in March tensions arose as refugees and immigrants tried to cross the Greek-Turkish border.
The Greek Foreign Minister fired an attack against Turkey, which he said tried to exploit human lives in March through an orchestrated plan organized by Turkish officials.
At the same time, Nikos Dendias clarified that Greece is always open to dialogue, but not under a regime of threats or through helping legitimize Turkey's continued violations of the rule of law.
After expressing his joy for meeting his dear friend Josep Borrell, he added, "In this place, less than four months ago, Greeks, Europeans and the international community witnessed an unimaginable situation: the exploitation by Turkey of the hope of thousands of people for a better life. Exploiting people who had been actively guided here to cross the border, misled by misinformation campaigns orchestrated by Turkish officials at the highest level, who claimed that these borders were open and that more than a hundred thousand had crossed into Greece. This sad attempt to blackmail the EU into making concessions has failed".
The Foreign Minister referred to the effective action of the government together with the help of Europe through Frontex, while referring at the same time to the current action and the statements of Turkey, after a short break due to the coronavirus: "Today, after a short break due to the pandemic, Turkey reiterated that its land borders with Europe are open. At the same time, its Coast Guard accompanies boats full of migrants heading to the Greek islands. But it also insists on undermining security and stability, as well as peace in the Eastern Mediterranean. It has caused problems for all its neighbors. It systematically violates the sovereignty of Libya, Syria, Iraq and our European partner, the Republic of Cyprus. It violates almost daily the national airspace of Greece and its territorial waters, carrying out, among other things, overflights over residential areas here in Evros and the Aegean with armed warplanes.
In Cyprus, for the sixth time in a year, it is conducting illegal drilling in the Cypriot EEZ. In Libya, disregarding international law once again, it is blatantly violating the United Nations arms embargo in order to achieve its neo-Ottoman aspirations.
Based on an illegal memorandum signed with the Tripoli administration, it aims to deprive Europe of its maritime zones, usurping areas within the Greek continental shelf, 6 nautical miles from islands such as Crete and Rhodes. It blatantly ignores Europe's repeated calls for respect for international law".
Nikos Dendias clarified that Greece is always open to dialogue but not under threat: "Greece has demonstrated in practice its will and ability to resolve long-standing disputes with its neighbors, in accordance with international law, the law of the sea and the principles of good neighborly relations. Conditions sine qua non for each EU member, but also for the countries that wish to join it.
We are always open to dialogue, but we are not prepared to discuss it under threat or to help legitimize Turkey's continued violations of the rule of law. Dialogue between neighboring countries with clearly defined coasts for the demarcation of the EEZ and the continental shelf is the only appropriate pathway, according to international maritime law. Greece has repeatedly stressed at its highest level its will to discuss this issue with Turkey in good faith and remains ready to do so. However, strictly within the framework of international law and the law of the sea. Yet this can only be actualized if Ankara responds to calls from the international community and the EU to de-escalate tensions, refrain from unilateral action and return to the path of legitimacy", said the Greek Foreign Minister. /ibna