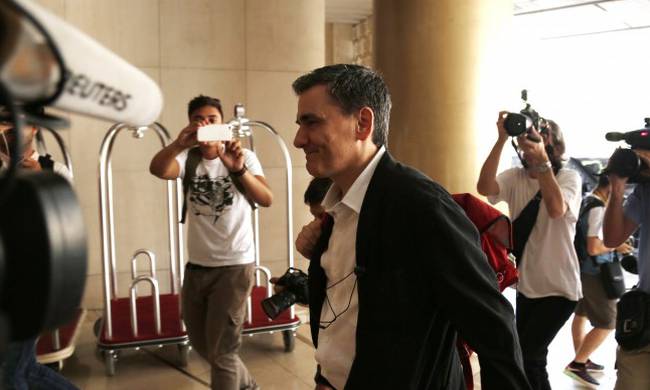 Athens, August 5, 2015/ Independent Balkan News Agency
By Zacharias Petrou
Greek Finance Minister Euclid Tsakalotos said talks on privatizations between Greece and its lenders are going better than expected.
During a break in the talks Tsakalotos said there were no significant disagreements. "We have submitted a proposal to them. They said they would examine it and come back to us. There were small divergences in views. I don't think there will be a problem" the Greek minister said.
Euclid Tsakalotos and Economy Minister Giorgos Stathakis met with the top representatives of the country's international creditors on Monday to discuss recapitalization of Greek banks and privatizations, with another meeting already scheduled for Wednesday (to conclude the "first phase" of negotiations) as the two sides intensify efforts to secure a deal.
The issue of who will control the administration of Greece's revamped privatization fund proved particularly thorny during Tuesday's talks, according to government sources.
Analysts point out that the next 48 hours of talks will determine whether or not a deal can be sealed in time for debt to the ECB to be repaid on August 20 or if a new bridge-loan will be required.
Earlier, government spokeswoman Olga Gerovasili revealed that the government will seek to reach an agreement with creditors by August 18.
"Grexit has not disappeared completely" the spokeswoman said adding that the two sides will begin writing up the new bailout agreement on Wednesday.
According to reports, lenders want Greece to commit to completing all pending privatizations, including ports, airports and the site of the old airport at Elliniko as well as proceeding with new sales of public property and entities.
Regarding banks, the "quadriga" wants a plan to tackle nonperforming loans and a decision on the process for further recapitalization – needs will be assessed on the basis of stress test results, expected by September 4.
Regarding pensions, creditors want the phasing out of early retirements to begin retroactively from July 1 as opposed to January 1, 2016. The technocrats are said to be particularly keen on stopping the retirement of those aged between 50 and 55, and want the practice abolished by 2018.