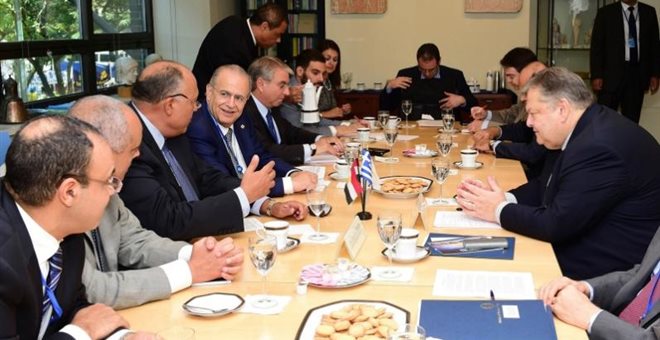 By Spiros Sideris – Athens
Common understanding for a wide range of issues was found among Greece, Egypt and Cyprus during the trilateral meeting at Foreign ministerial level, held on Friday at the UN headquarters, in accordance with the joint statement issued on Monday.
The meeting, held for the second consecutive year, confirms the strengthening of the strategic relations between Greece and Egypt, which is consistent with the basic objectives of Greek foreign policy, such as the delimitation of maritime zones between the three countries beyond the influence of Turkey.
The approach Egypt-Greece-Cyprus comes at a time when relations between Ankara and Cairo are constantly deteriorating, with Egyptian FM Sameh Shukri canceling the scheduled meeting with his Turkish counterpart in New York, due to the new accusations recently launched by Turkish president Recep Tayyip Erdogan against Egyptian President Abdel Fatah al-Sisi.
The text does not make specific reference to the issue of marine zones, which however, was discussed during the bilateral meeting between Evangelos Venizelos and Shukri. However, the press reported that the three foreign ministers stated the commitment of their respective governments to work closely and strengthen their cooperation in all areas of mutual benefit".
Meanwhile, the three ministers agreed that it is "important to make Eastern Mediterranean a pillar of stability in the region" and that achieving this goal passes "through the promotion of cooperation of neighboring countries in various sectors, including the energy sector".
Athens and Nicosia have confirmed their support to the efforts of the Egyptian government towards Egypt becoming a "prosperous and democratic country" and welcomed the adoption of the new Egyptian Constitution by referendum.
Regarding Cyprus, Egypt confirmed that supports, along with Greece and Cyprus, a solution based on the resolutions of the UN Security Council; a solution that "would be to the benefit of all Cypriots and the whole region".
Agreement was also recorded for managing the threat of Islamic State in general and extremism in the Middle East, the management of the crisis in Libya and the peace process in Gaza.