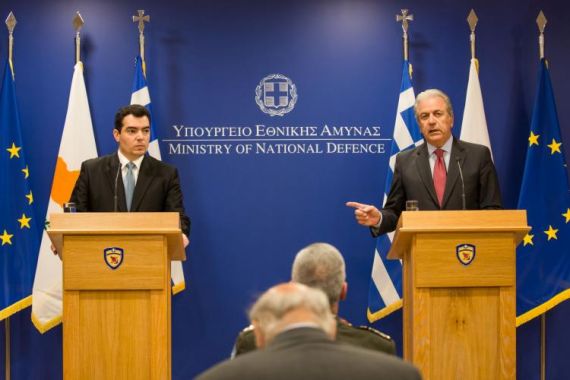 By Spiros Sideris – Athens
by Defence Minister Christopher Fokaidis and Minister of National Defence of Greece Dimitris Avramopoulos, who represented the Greek government in the celebrations for the 54th anniversary of the proclamation of the independence of Cyprus, signed yesterday a Memorandum of crisis management.
The Memorandum provides for the exchange of information and assessment of the situation in the immediate environment, the coordination of the actions of institutions and crisis management services of both countries and the taking of common measures for the treatment of any condition after consultation and joint decision.
Earlier, Avramopoulos was received by the President Nikos Anastasiadis.
In a statement, Fokaidis said that the aim of the Memorandum is to reinforce and strengthen the defense cooperation between the two countries, but also the defending of the territorial integrity and protection of our State sovereignty.
The Joint Memorandum Crisis Management, explained the Minister of Defence, "is a confirmation of the continuous strengthening and constant upgrading of our permanent bilateral cooperation". It is he said, "one more tool available to the two governments for the further institutional deepening of our close relationship and cooperation in the field of defense and security."
The presence of the Greek Minister of National Defence in Cyprus, he added "affirms the indissoluble fraternal ties between our two countries and the unwavering support of Greece in the struggle of the Greek Cypriot people to end the occupation and finding a just and viable solution of the Cyprus issue" .
"We had the opportunity today, and in the meeting held today in the President manor, to inform the Minister and to review together the latest developments in our national issue in light of the new and highly significant geopolitical changes in our region", said  Fokaidis and added that "We briefed the minister on issues of energy security and the exercise of the sovereign rights of the Republic of Cyprus, in relation to the ongoing progress of the implementation of our energy planning, since the discovery of hydrocarbons in the Exclusive Economic Zone of Cyprus" . Cyprus and Greece, he said, "are keeping together in a common struggle, together with our partners, against whatever threatens the security and the very existence of our open democratic societies and contemporary culture".
Fokaidis also wished to Avramopoulos every success in his new role as Commissioner for Home Affairs and Immigration.
On the side of the Avramopoulos, he said the memorandum concerns the technical, but not only that, cooperation, noting that the exchange of information and know-how to form another new framework aimed at preventing risks we face together. He stressed that "there is no agreement aimed at aggressive purposes" and that instead contribute to the creation of a security environment "because the defence systems of Greece and Cyprus beyond the objective purpose, which is to protect and ensure the integrity and independence of Greece and Cyprus respectively, come to bring their services to other common throughout Europe and throughout the region, purposes".