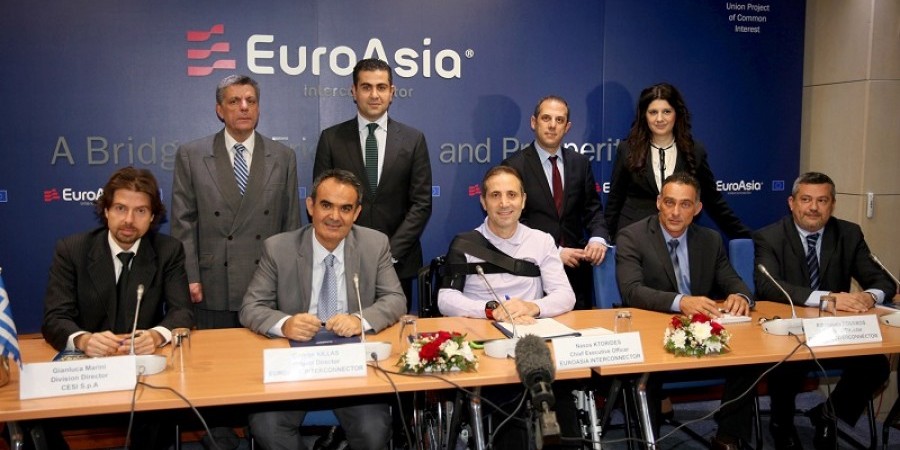 Nicosia, December 21, 2015/Independent Balkan News Agency
By Kyriacos Kyriacou
The EuroAsia InterConnector, the 1,518 km subsea power cable connecting the Israeli, Greek and Cypriot power grids to continental Europe, entered a new stage, with the project promoter awarding three studies that will pave the way for the pre-works phase, leading to its implementation and commissioning.
According to a company announcement, the EuroAsia InterConnector officially awarded the studies to two Italian companies, CESI S.p.A. and GAS S.r.l, during a ceremony held at the European Parliament Office in Cyprus, last Friday.
The studies are for the technical design, the reconnaissance study for the optimum route and an environmental impact study. All of them are expected to be complete during 2016.
The project was initially announced in January 2012 and will have a capacity to transmit 2,000 megawatts in either direction, ending the electricity isolation of Israel and Cyprus and parts of Greece.
The project is included in the revised list of 195 Projects of Common Interest (PCI), issued on November 18 by the European Commission. It offers significant economic and geopolitical benefits to the involved countries and contributes to the EU target for 10% of electricity interconnection between member states.
The ceremony was organized in cooperation with the European Parliament Office in Nicosia, and was attended by the Minister of Transport Marios Demetriades, the project's CEO Nasos Ktorides, and Project Director George Killas.
Also present were Andreas Kettis, Head of the European Parliament Office in Cyprus, and the Ambassadors of Israel, Greece and Italy.
The Greek Ambassador Elias Fotopoulos conveyed the message of the Minister of Energy Panos Skourletis underlining the project`s significance for the country, and stated the government`s wholehearted support.
Nasos Ktorides said from his part that "the fact that the EuroAsia InterConnector fulfills the general criteria of the Projects of Common Interest (PCI) plan and has been proposed by the European Commission to be labeled as an electricity highway, proves the significance of the project and the beneficial impact it will have on future generations of European consumers".
Work on the initial 329-kilometer cable link between Israel and Cyprus is expected to begin in 2017 and be completed in 2019. The second phase will connect the Greek island of Crete to Attica in mainland Greece in 2020 and the third and final phase will connect the cable from Cyprus to Crete with a view of full implementation of the "electricity highway" by 2022.
The expected cost of step one and step two of the project is €1.5 bln and will be undertaken in full by EuroAsia Interconnector.