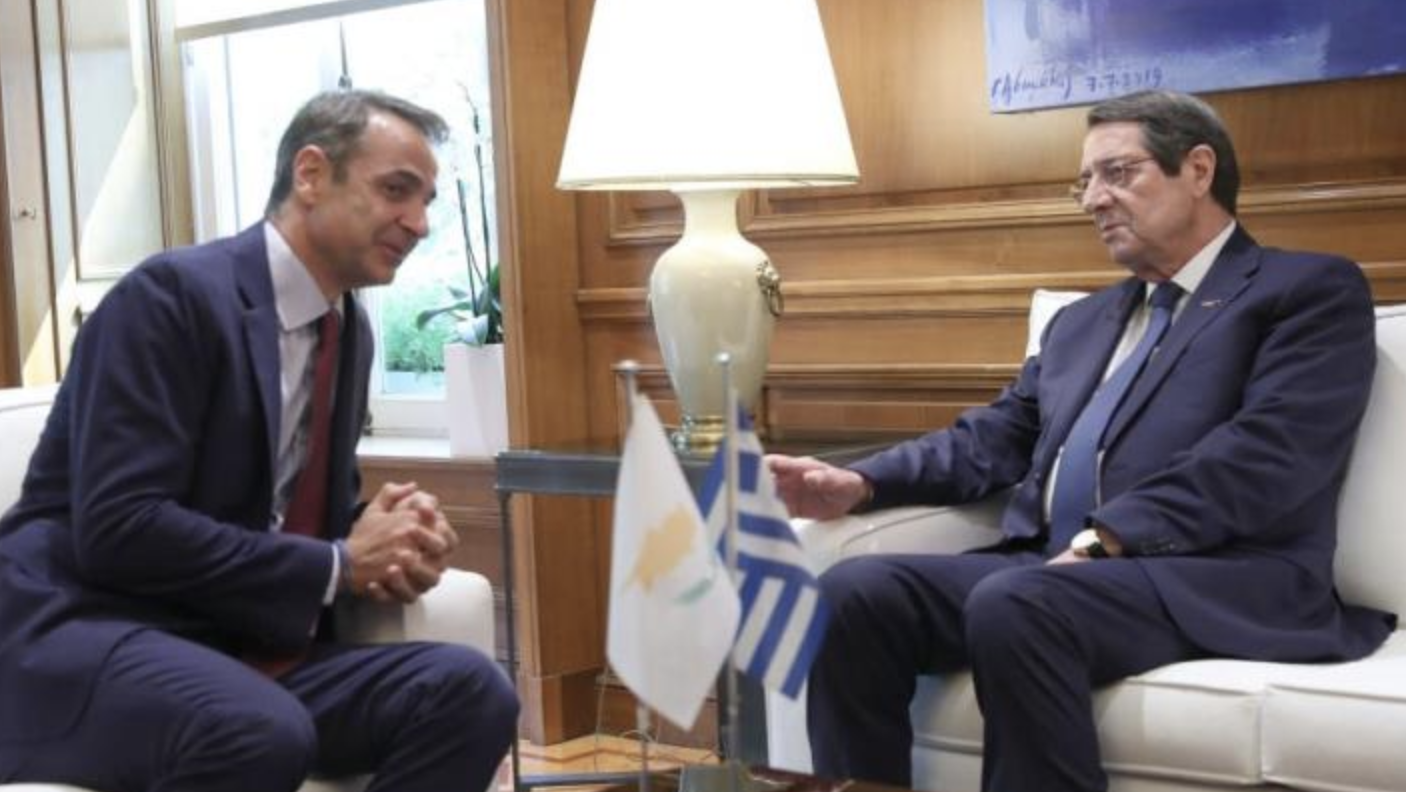 In their opening remarks at today's meeting at Maximos Mansion in Athens, the President of the Republic of Cyprus and the Greek Prime Minister conveyed a message that the framework for resolving the Cyprus issue is outlined by the decisions and resolutions of the United Nations.
Prime Minister Kyriakos Mitsotakis met this morning with Cypriot President Nicos Anastasiades.
During their meeting, the two heads of state confirmed the full support of Greece and Cyprus in the efforts of the UN Secretary General for the resumption of negotiations on the Cyprus issue.
The meeting is a continuation of the ongoing coordination and cooperation between Athens and Nicosia, in view of the informal Five-Party Meeting (5+1) convened by the Secretary-General of the United Nations, scheduled to take place on April 27-29 in Geneva.
President Anastasiades described as particularly important the effort being made "so as to create the conditions for the UN Secretary General to determine whether there is room for dialogue, in order to resolve a problem that arose by the Turkish invasion and occupation of Cypriot territory."
"The negotiation framework is outlined by UN resolutions, Security Council decisions, EU principles and values. These were set on November 25, 2019 in Berlin, in the presence of the UN Secretary General and Mr. Akinci," said Anastasiades.
At the same time, the President of Cyprus stressed that this was not an attempt to usurp the rights of anyone.
"We are trying to find a way for both communities to feel safe and for human rights to be guaranteed for the entire Cypriot people; For the evolution of the Republic of Cyprus to create a viable and functional state. Far from guarantees and foreign troops, and especially far from by any third-party dependencies," stressed Anastasiades, adding that the positions of the two countries coincide.
"Our role in the negotiations is different. However, when it comes to security and guarantees, you will have an important role to play," he concluded.
For his part, the Greek Prime Minister noted that Athens and Nicosia are coordinating their actions in view of the Geneva Five-Party Meeting under the auspices of the UN Secretary General, something that as he said, determines the context in which the talks will be conducted.
"The context is clear. It is based on all previous UN resolutions and the solution can only be found within the framework of the Bi-Zonal Bi-Communal Federation with one sovereignty, one citizenship, one international representation. And of course with the withdrawal of the occupying armies but also the abolition of the anachronistic institution of guarantees," he said, adding that "the starting point is absolutely clear."
"That is why today we will be given the opportunity to coordinate our actions. We are approaching the discussions positively, so that a solution can be found that will be fair, functional and sustainable for the benefit of all Cypriots; Greek Cypriots and Turkish Cypriots," the Greek Prime Minister noted. /ibna