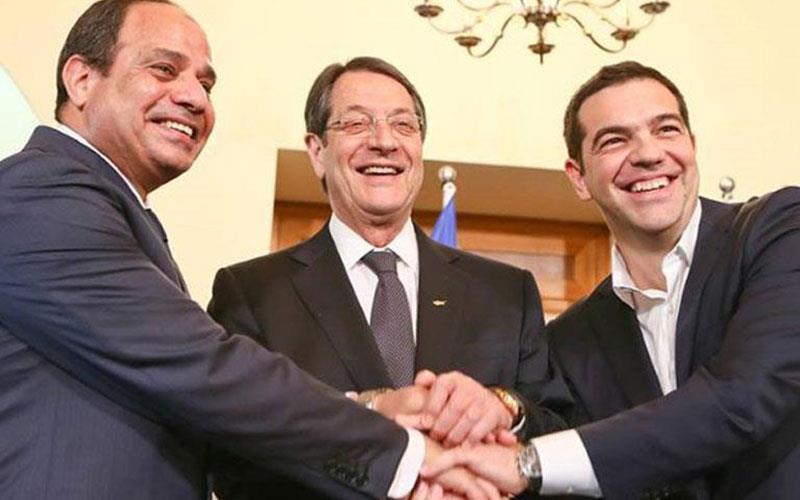 The fourth Trilateral Summit between Greece-Cyprus-Egypt starts at 09:00 GMT Tuesday in Cairo. First on the agenda is a bilateral meeting between the President of Cyprus Nicos Anastasiades and his counterpart Abdel Fattah el- Sisi and at 09:30 GMT a bilateral meeting between the Greek Prime – Minister Alexis Tsipras and the Egyptian President.
At 10 GMT three olive trees will be planted in the courtyard of the Presidential Palace and the trilateral meeting between the three leaders will then follow.
Delegations of the three countries will participate in the expanded Summit that will follow and at 12:30 GMT a press conference will be given. At the end of the press conference a lunch in honour of the delegations will be held from the host President el-Sisi.
According to Greek government circles, "the Trilateral Summit comes at a crucial juncture for the wider region of the Eastern Mediterranean, which reinforces the importance of the Summit towards the stability and development in the region. Within the framework of the tripartite cooperation schemes with third countries, Greece and Cyprus are widening their dialogue and cooperation with Egypt, a benchmark country for the Middle East and the Arab world and key country for the stabilisation of the eastern Mediterranean region. This joint Cyprus tripartite cooperation with Egypt, as well as other countries in the region (eg, Israel) is a key element of Greek foreign policy. It falls, into a broader network of initiatives made by Greece to strengthen cooperation around the Mediterranean. The latest step in this strategy was the Meeting of Mediterranean EU countries (EUMedSummit) in Athens last September. "
On the Trilateral Summit's agenda the following issues will be discussed, said the same government sources:
Coastguard and maritime cooperation with an aim to develop the maritime transport network between the three countries.
Tourism cooperation to boost tourism between the three countries and provide a joint tourist product to other countries (eg cruises for tourists from countries such as China or France to Greece, Cyprus and Egypt).
Energy matters, mainly mining and natural gas that has been located in the sea area between Cyprus and Egypt.
Regional security, with emphasis on the situation in Libya and Syria.
Migration
Infrastructure development, such as railways, highways, airports, etc.
Water management, such as desalination projects, flood protection and land reclamation.
Protection of the environment, particularly the marine environment.
Finally, as part of the Trilateral Summit, the Prime Minister will meet with the two communities of Greek-Egyptians in Cairo and Alexandria, the oldest Greek expatriate communities in the world.
The participants on behalf of the Greek government are: Greek Foreign Minister Nikos Kotzias, Environment and Energy Minister, Panos Skourletis, Minister for Infrastructure, Transport and Networks, Chris Spirtzis,  Minister for Shipping and Island Policy, Thodoris Dritsas, Deputy Minister for Economy, Development and Tourism, Elena Kountouras, State Secretary to the Prime minister and Government Spokesman, Olga Gerovasili, Deputy Foreign Minister, Dimitris Mardas/IBNA