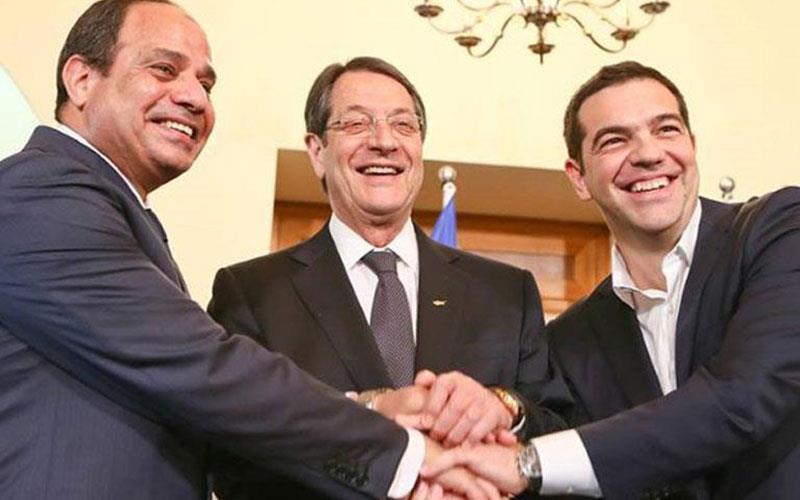 Athens, October 10, 2016/Independent Balkan News Agency
Greek Prime – Minister Alexis Tsipras will travel to Cairo on October 11th to take part in the 4th consecutive Trilateral Summit between Greece, Egypt and Cyprus.
The Greek Prime – Minister will be accompanied by Greek Foreign Minister Nikos Kotzias, Greek Minister for Infrastructure, Transport and Networks Christos Spirtzis, Energy Minister Panos Skourletis, the Minister of Tourism Elena Kountouras and Shipping and Island Policy Minister Thodoris Dritsas as well as Government Representative Olga Gerovasili and Deputy Minister of Foreign Affairs Dimitris Mardas.
With terrorism in Sinai and the decline in tourism having an effect in the Egyptian economy while the wars in Syria and Libya are creating refugee flows, the Sisi Government is currently not in the best position to give due weight to leading questions at the 4th Trilateral Summit. The situation in Egypt recently was the main reason the Trilateral was reduced to one day and postponed for October, since the original plan for the meeting was for the end of August.
However this does not mean that there won't be any significant discussions between the three sides, something which is evident by the presence of key Egyptian Ministers.
The first meetings to take place will be bilateral between the Greek Prime – Minister, Cyprus President Nicos Anastasiades and Egyptian President, Abdel Fattah el-Sisi, they will be followed by trilateral meetings and further meetings between the three missions. At the end of the summit there will be joint statements by the three leaders,  followed by the Joint Declaration of the Trilateral Summit.
According to IBNA information, Alexis Tsipras will travel to Cairo on Tuesday morning and President of Cyprus Nicos Anastasiades on Monday evening.
Among the issues to be discussed at the Tripartite Meeting include Energy, regional developments, the EU – Egypt relations, developments in the Cyprus problem, the cooperation between the three countries in areas such as tourism, agriculture, environment, air, sea transport and trade.
As part of the Tripartite Meeting are expected to be signed two MoU between Cyprus, Greece and Egypt for environmental protection issues, maritime transport and leisure cruises.