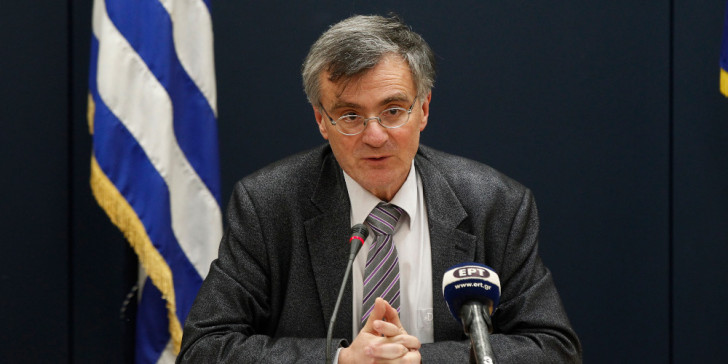 Greece's Ministry of Health announced another 82 confirmed coronavirus cases, bringing the total number of people who have contracted the virus to 1314. Additionally, 20 people on board a cruise ship tested positive for coronavirus, after tests carried out on all 383 passengers.
The total number of deaths reached 49 – six more than Monday. The patients that dies with coronavirus have an average age of 72, while the vast majority were male and faced underlying health problems.
Professor Sotiris Tsiodras, a spokesperson for the Ministry who leads a team of medical experts tackling the health crisis, said 85 patients are now in intensive care, with an average age of 66. All but 17 are male. Overall, 16,732 tests for coronavirus have been carried out in Greece so far.
The Ministry of Health said it was now critical that emergency measures put in place by the government continue to apply. Professor Tsiodras estimated that approximately 59,000 lives have been saved globally due to the adoption of lockdown measures and other restrictions. He went on to say that experts "hope higher temperature during the spring and summer months will help diminish the impact of the coronavirus".
On his part, during a regular press briefing on Tuesday, Deputy Civil Protection Minister Nikos Hardalias said April is considered a crucial month in the effort to bring the pandemic under control in Greece.
"Nothing is over yet", the deputy minister said, adding that the government is examining every possible option and measure available to stem the spread of COVID-19, including action to make sure citizens don't visit the countryside over Easter. Moreover, he revealed additional restrictions will be imposed on 5 municipalities in the regions of Xanthi and Kastoria, northern Greece.
The deputy Minister said scenes on Monday of long queues of customers in close proximity to each other at several bank branches in Athens were "unacceptable", adding that the Hellenic Bank Association has been called by the government to explain the actions it is taking to make sure customers don't flock to branches to make their transactions.
Most customers were pensioners wanting to update their account, or receive their pensions, while small business owners also waited in line to cash bank cheques. Social distancing measures and government orders to avoid crowding in public places were largely ignored.
Local media reports suggest the scenes will most likely prompt government action imminently, as authorities are also contemplating fresh restrictions on movement, ahead of the Easter Holiday period. Plans include imposing limits on the amount of time citizens will be allowed to leave their homes for after applying for permission to move via SMS or online. Hand-written applications will most likely be abolished./ibna