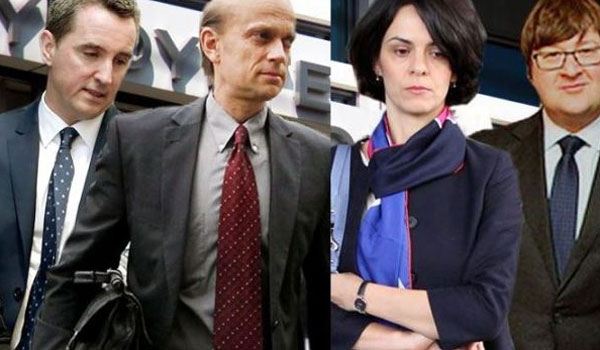 Athens, February 24, 2016/ Independent Balkan News Agency
By Zacharias Petrou
Government spokeswoman Olga Gerovasili told reporters during a scheduled briefing on Tuesday that European creditor institutions (European Commission, European Central Bank and European Stability Mechanism) envoys are readying their return to Athens to resume their review of the Greek bailout program.
Gerovasili said talks are continuing at technical level between the two sides and the government feels there is satisfactory convergence. However, the spokeswoman added, the International Monetary Fund's stance remains to be clarified and that the Greek government is proceeding with all necessary communication towards this end.
Athens says that on the European side there is political realization – which is shared by the European institutions – that the first review of progress made in the implementation of the Greek bailout program must be wrapped up swiftly.
However, since the date for the return of the top troika envoys has yet to be announced, Gerovasili admitted that the Greek government has no clear indication as to when they might return to Athens to resume talks.
Greek government sources maintain that the quadriga of lenders have yet to return to Athens because of a rift between the European institutions and the IMF which has been pushing for much stricter austerity measures this year and highly unpopular pension cuts.
The Director of the IMF's European Department, Poul Thomsen, recently wrote in a blog that Greece's pension system remains "unaffordably generous" and that in order "to reach its ambitious medium-term target for the primary surplus of 3½ percent of GDP, Greece will need to take measures in the order of some 4-5 percent of GDP".
However, Thomsen also argued that "no amount of pension reforms will make Greece's debt sustainable without debt relief, and no amount of debt relief will make Greece's pension system sustainable without pension reforms". Debt relief for Greece is reportedly acceptable to the troika of Greece's EU creditors but not to the extent the IMF desires.
The IMF is also adamant that in 2015 a 0.6 percent primary deficit was recorded, creating a fiscal gap of at least 0.5 percent of GDP this year, resulting in multi-million euro new measures being needed. The Commission, ECB and ESM representatives foresee a smaller fiscal gap to be bridged but all creditor institutions agree that Greece will fall short of fiscal targets. This is being cited as one of the reasons the quadriga's top negotiators are reluctant to continue talks with the Greek side before Athens presents numbers that add up.
Greece's IMF program was terminated in January 2016, two months ahead of schedule, it was announced Tuesday.
Finance ministry officials said that the decision, which was agreed to by the IMF, was made to avoid administrative costs related to the program.
The decision was confirmed by IMF press officer Andreas Adriano.
With the Greek government having already requested a new program it is considered certain that this will involve a new round of reforms for Greece to carry out and austerity measures to implement, complementing the MoU signed in the summer.