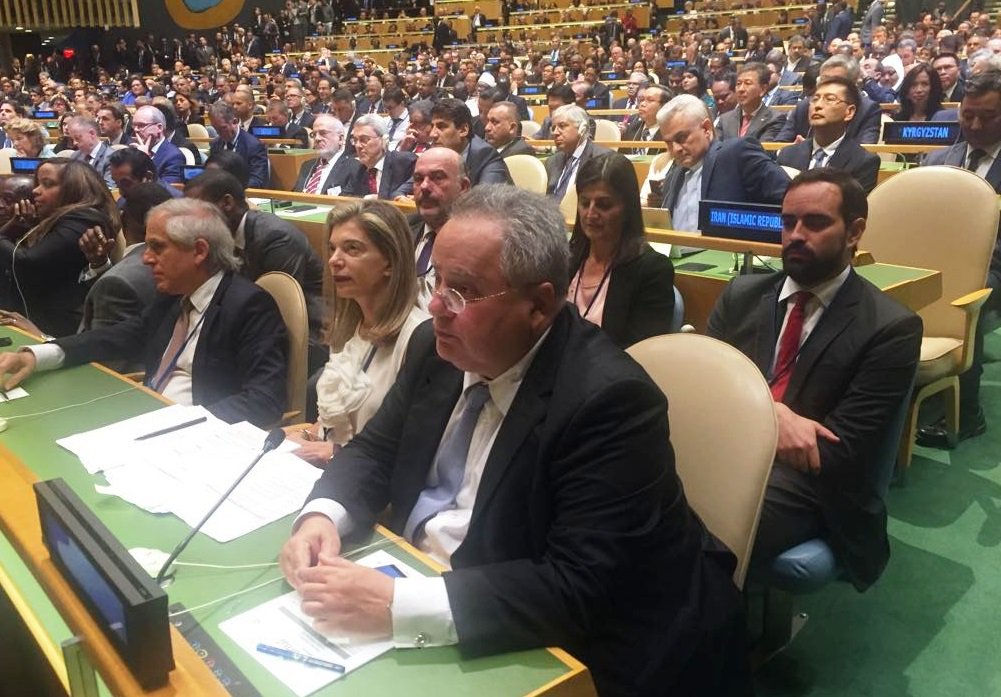 Continuing his contacts during his visit to New York, where he participates in the work of the 72nd GA of the UN, the Greek Foreign Minister consolidates Greece's position on the international political scene.
Greece's energetic and multidimensional foreign policy highlighting the country as a pillar of stability, cooperation and prospect.
Nikos Kotzias on the second day of the High-Level Week of the 72nd UN General Assembly met with the Secretary for Relations with States for the Holy See, Archbishop Paul Richard Gallagher.
The meeting confirmed the excellent level of bilateral relations between Greece and the Holy See. The discussion focused on issues of bilateral co-operation as well as regional issues, with emphasis on addressing religious fanaticism and the need to promote interfaith dialogue. In this regard, the Greek Foreign Minister has extensively analyzed the content of the Greek initiative of the International Conference on "Religious and Cultural Pluralism and Peaceful Coexistence in the Middle East", in which he invited him to participate. Finally, Archbishop Gallagher asked to be informed of the latest developments on the Cyprus issue.
Mr Kotzias then met with the Secretary of State for the United Arab Emirates, Dr. Sultan Ahmed Al Jaber. During the meeting, the prospects for upgrading bilateral economic and commercial cooperation, including attracting investment to Greece in areas such as energy, tourism and construction, as well as cooperation in the fields of culture and education were examined.
Issues of regional interest were raised, such as the situation in the Balkans and developments in the Middle East and, in particular, the crisis among the Gulf states. It was agreed that the two sides intensify their consultations on these issues at the level of the competent Foreign Ministry Directorates.
UAE-EU relations have also been discussed, recarding which the Foreign Minister has assured that Greece will contribute in the direction of their strengthening. Finally, the Minister informed his interlocutor about the Greek initiatives in the Eastern Mediterranean and Middle East region to promote co-operation, stability and security, asking him to extend an invitation to his country's Foreign Minister to take part in the 2nd International Conference on "Religious and Cultural Pluralism and Peaceful Coexistence in the Middle East" to be held in Athens in late October.
In a particularly warm climate was held the meeting with the President and the Minister of Foreign Affairs of the Republic of Cyprus, Nicos Anastasiades and Ioannis Kasoulides. During the discussion, the results of the Cypriot summit in Crans Montana were reviewed and evaluated and the coordination of the two governments' position towards a solution to the Cyprus problem was discussed, within the framework of UN resolutions, taking into account the parameters of the UN Secretary-General. Nikos Kotzias briefed the President of the Republic of Cyprus on his attendance at his meeting with the UN Secretary-General, while in statements to journalists, the Greek Foreign Minister reiterated that Cyprus can not rely on guarantees from third countries nor on "intervention" rights.
On Wednesday, the Greek Foreign Minister, in addition to his participation to the work of the 72nd UN GA, as the head of the Greek delegation, will have bilateral contacts with Armenian Foreign Minister Edward Nalbandian, Colombian Foreign Minister María Ángela Holguín Cuéllar and his Lebanese counterpart Gebran Bassil./IBNA