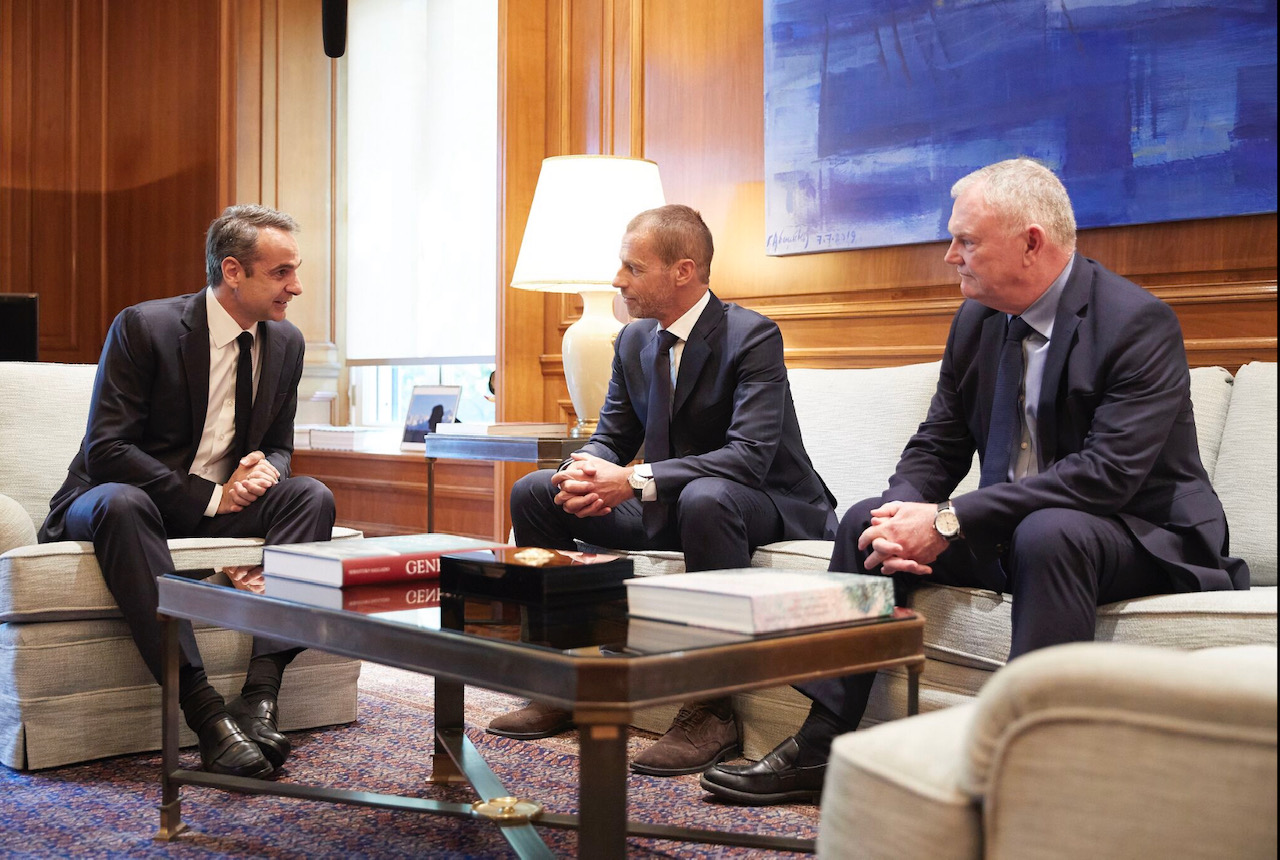 Greek Prime Minister Kyriakos Mitsotakis met with UEFA President Aleksander Čeferin and FIFA Vice President Greg Clarke on Tuesday morning at the Maximos Mansion.
Following the meeting, the Prime Minister and the Minister of State, Giorgos Gerapetritis, proceeded to the signing a Co-operative Agreement with the two representatives, aimed at reforming Greek football.
The enlarged meeting was also attended by Zoran Lakovic, UEFA National Associations Director, Emily Shaw, FIFA European Member Associations Director, Herbert Hübel, FIFA / UEFA Observer and Advisor at HFF, Ines Najvirt, UEFA Head of President Office, Marios Georgiou , UEFA Representative in Greece, Petr Fousek, FIFA / UEFA Independent appointed Expert at HFF and Francesco Campagna, Protocol Officer.
The Greek side was represented by Minister of State, Giorgos Gerapetritis, Deputy Minister of Culture and Sports, responsible for Sports, Lefteris Avgenakis, Deputy Prime Minister, responsible for the coordination of the Government, deputy Government spokesperson, Aristotelia Pelonis, the Director of the Prime Minister's Press Office, Dimitris Tsiodras.
The key provisions of the Co-operative Agreement signed between the Greek Government and UEFA and FIFA are that both organizations, within a period of three months from the date of signature of this Covenant, will carry out a holistic study of the improvement and upgrading of Greek professional football.
The study will include specific, tailor-made proposals based on international best practices, including but not limited to:
-The structure and organization of the governing bodies of Greek professional football
-The undisputed nature of the game (to cope with the risk of staging matches, corruption and the use of anabolic substances) in Greek professional football
– The effective treatment of defamatory statements and all kinds of violence and discrimination in Greek professional football
Concerning the UEFA and FIFA arbitration system, they will make efforts to ensure that these proposals are further elaborated by the Hellenic Football Federation through the latter's institutional instruments.
UEFA and FIFA will also employ their trained staff, or any other independent specialist deemed necessary to fulfill these tasks.
The Greek Government is committed to incorporating the UEFA and FIFA proposals into the Greek legal order as part of its Sports Policy./ibna