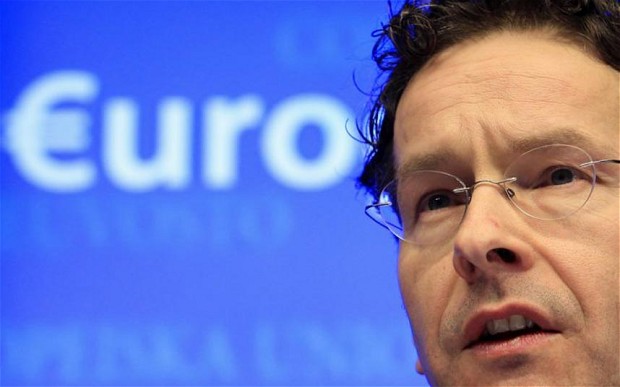 By Lefteris Yallouros – Athens
A Euro Working Group meeting was held Wednesday to examine if Greece has taken all necessary prior actions in order for the country to receive the next tranche of the EU-ECB-IMF sponsored bailout loan.
Twenty one out of twenty two of the required actions have been voted into law by the Greek parliament so far and the final one – over the civil servant mobility scheme being applied to Education ministry employees – is set to be approved Thursday.
Education minister C. Arvanitopoulos is set to bring a relevant draft to Parliament determining how many of the ministry's employees will join a "reserve pool" of public sector employees set to be transferred to other posts or be laid off within eight months.
A senior government official told MNI on Wednesday that all the necessary preconditions for Greece's next rescue loan tranche to be disbursed were fulfilled.
Eurogroup President Jeroen Dijsselbloem said the disbursement is due to be complete by Monday July 29th.
Mr. Dijsselbloem's statement reads:
"The euro – area Member States have been informed today by the Troika institutions that Greece has satisfactorily implemented the prior actions required for the release of the next disbursement under the financial assistance program, except for one action whose adoption by the Greek Parliament needs to be completed by Thursday, 25 July. These prior actions included important steps in the areas of fiscal policy, tax reform, revenue administration, public administration reform, privatization and financial sector restructuring. 
Subject to confirmation of compliance with the last outstanding prior action, national procedures may thereafter be finalized and are expected to be completed by 29 July. Once this process has been satisfactorily concluded, the EFSF will be authorized to release the first sub-tranche of the next installment, amounting to EUR 2.5 billion, according to the program."
The German Finance Ministry was also reassuring, saying it does not expect a delay of the payment of the next sub-tranche of E2.5 billion aid to Greece under the EU-IMF rescue program.
Greece expects to receive EUR 4 billion in sub-tranches. The European Financial Stability Facility will provide EUR 2.5 billion and a further EUR 1.5 billion will be handed to Greece from the income of euro-area central banks from Greek government bonds.
The IMF will also convene on the 29th of July to decide on how it will hand Greece its share of the rescue package, amounting to EUR 1.8 bn.