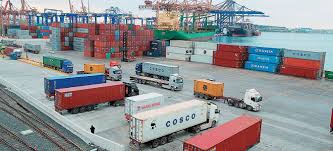 By Lefteris Yallouros  – Athens
The Russian government has banned all imports of meat, fish, milk and milk products and fruit and vegetables from the United States, the European Union, Australia, Canada and Norway, Prime Minister Dmitry Medvedev announced Thursday.
The embargo comes as a result of the latest EU sanctions over the Ukrainian crisis. In 2013, agricultural products held the 9.9% of total EU exports to Russia.
The ban, that will go into effect immediately and last for one year, is expected to prove particularly costly for Greece. In 2013 Greek exports to Russia were worth a total of 178 million euros. Almost half of the fruit produced in the areas of Pella and Imathia is exported to Russia. Russia imports 50% of Greek strawberry and 25% of peach production.
Russia maintains individual trade agreements with each EU member-state thus leaving room for negotiation as to how Greece will be affected by the ban. The situation will be fully assessed when Russia announces the products banned by country.
The Greek government appeared optimistic on Thursday that certain local products such as olive oil and wine would be exempted from the embargo.
"We are making a constant effort to ensure that we only suffer the smallest possible consequences, even none at all, if possible," said Foreign Minister Evangelos Venizelos.
Athens Chamber of Commerce and Industry Chairman, Konstantinos Michalos, also stated Thursday that indications from Russian Commerce Chambers and the country's Embassy in Athens are that Greek products will be largely excluded from the embargo.
Meanwhile, main opposition SYRIZA criticized the government for taking part in EU sanctions against Russia which the party deems has brought on economic warfare, "one that unfortunately Greece has been dragged into".
The party said the country's irrational foreign policy vis a vis the Ukrainian crisis is drawing Greek farmers closer to economic catastrophe.