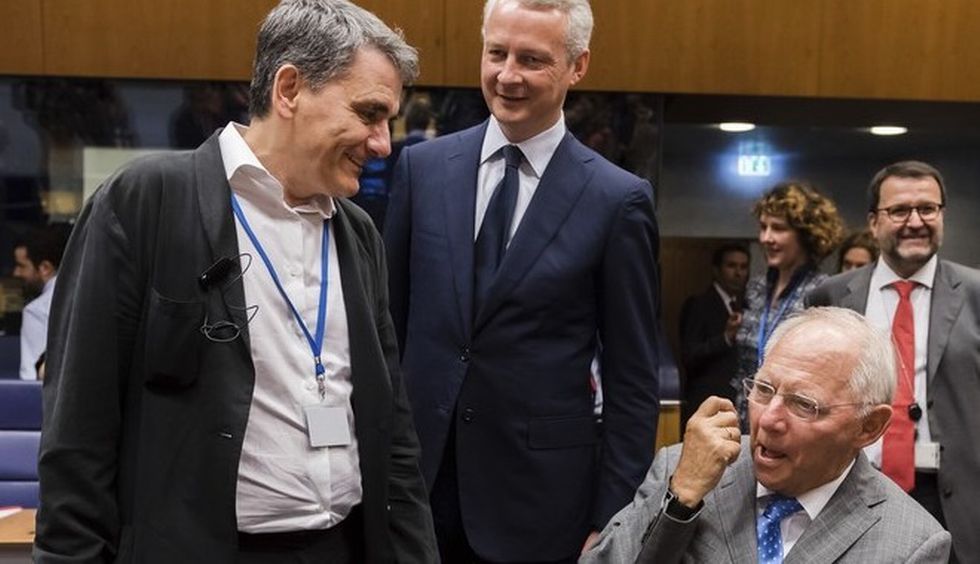 The Eurogrouo agreed to conclude the second review of the Greek bailout programme, granting the country the next tranche of its bailout loan, while also outlining a series of debt relief measures.
Eurogroup chief, Jeroen Dijsselbloem, said Greece will receive 8.5 billion euros, allowing it to meet a big repayment on July 19. Dijsselbloem said Thursday at the conclusion of the meeting of the eurozone's 19 finance ministers that an agreement was forged "on all elements."
He also said the International Monetary Fund (IMF) was ready to provide more financial assistance to Greece via a stand-by arrangement.
IMF Managing Director, Christine Lagarde, said in a statement that it is her "intention to propose to the IMF's Executive Board the approval in principle (AIP) of a new IMF Stand-By Arrangement for Greece".
"We have recently seen significant progress by the Greek government on policy reforms, with a staff-level agreement followed by supportive legislation from the Greek Parliament. We have also seen progress on debt relief, although further discussions are needed on the scope and type of measures to be provided by Greece's European creditors" Lagarde added.
The Eurogroup also welcomed the adoption by the Greek parliament of the agreed prior actions for the second review, notably the ambitious post-programme fiscal package, which is composed of an income tax reform broadening the tax base and a pension reform.
The deal appeared to satisfy the Greek coalition government. Greek Prime Minister Alexis Tsipras told the Athens News Agency earlier that in the end, "the good ones win."
Finance Minister Euclid Tsakalotos welcomed the decision, highlight the importance of further clarity on debt re-profiling.
"Its a big step forward from what was on the table at the last Eurogroup meeting," he told Reuters. "It gives much greater clarity to the markets and the Greek people."
Greece should be able to go back to the markets late this year or early next year, provided it keeps up with the implementation of agreed reforms, European Stability Mechanism (ESM) head Klaus Regling said.
According to a Eurogroup statement, the agreement struck "aims at shoring up growth and addressing the underlying structural imbalances in public finances".
As announced, at the end of the programme, conditional upon its successful implementation and to the extent necessary, a second set of agreed measures will be implemented to provide debt relief.
The Eurogroup further invited Greece together with the institutions as well as relevant third parties by the end of this year to develop and support a holistic growth enhancing strategy including improvements of the investment climate. It also welcomed the commitment of Greece to maintain a primary surplus of 3.5% of GDP until 2022 and thereafter a fiscal trajectory that is consistent with its commitments under the European fiscal framework.
In view of the ending of the current programme in August 2018, the Eurogroup commits to provide support for Greece's return to the market, while also agreeing that future disbursements should cater not only for the need to clear arrears but also to further build up cash buffers to support investor's confidence and facilitate market access./ΙΒΝΑ