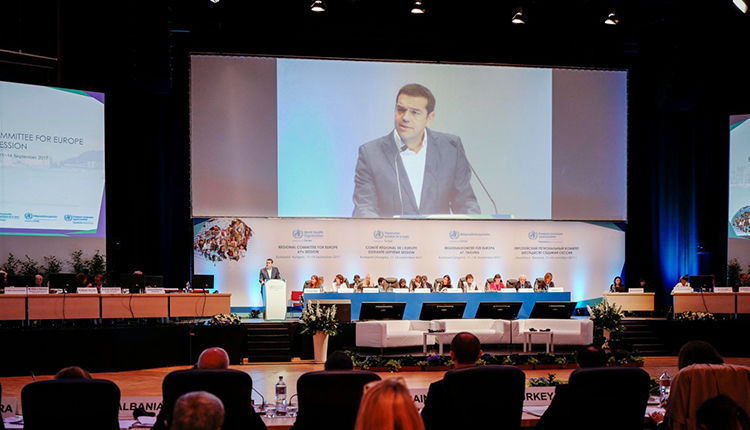 Greece's reforms to the health sector amidst the twin economic and refugee crises were the focus of Prime Minister Alexis Tsipras' address to the 67th session of WHO Regional Office for Europe held in Budapest on Tuesday.
According to sources, the invitation to the Greek prime minister to participate in the meeting from WHO Director-General Dr Tedros Adhanom Ghebreyesus was extended in recognition of the substantial work done by Greece in the health sector, especially for reforms ensuring universal access to primary health care and for improving public health structures.
Tsipras noted that the health sector was severely stricken by the economic crisis and the austerity measures and explained that "we decided that the only way to protect and support society was to strengthen universal healthcare and at the same time to do the utmost possible to ensure that the weaker groups, including migrants, will have access to it."
He underlined the WHO's crucial role in the protection of the globe's population in a period of significant international and regional challenges, adding that it was a great honour and huge responsibility to represent Greece at the meeting in Budapest.
When Greece was faced with a dilemma between "dealing with the provocations with solidarity and dignity and within the context of international law or protecting our interests only, my country chose the first path, the only one that allows Europe to have a future" Tsipras said.
"The promotion of health and healthcare is a fundamental human and social right," said Tsipras, adding that "it is a matter of policies that prevent the social and economic consequences of bad health and illness. The reasons are poverty and social exclusion, the lack of decent living conditions and bad nutrition. What we need is a health policy that supports the weak in the face of inequalities."
Referring to the Greek government's actions in the last two years in the health sector, he said that they promoted an alternative political programme focusing on universal coverage of the population, emphasis on the public health system, improving health system management, abolishing the passive privatisation of the health system and illegal financial transactions or payments, reforms in primary health care and emphasis on patients' rights.
"This is our answer to the crisis in the health system, particularly in a period of high risk and multiple challenges in the health sector", Tsipras said.
The PM underlined that through a redistribution of public spending that combined funds from the state budget and social insurance, the government succeeded in ensuring the universal, free and equal access to uninsured citizens to the public health system, supporting and stabilising the public health system, tackling corruption and wasteful spending within the health system, ensuring reliable healthcare for thousands of refugees and migrants, promoting reforms in the health system that had been pending for decades and facilitating patients'access to innovative medicine.
"Further steps must be taken to correct the mistakes of the past and to build a modern health system in Greece, while more reforms and difficult measures are necessary", Tsipras stressed, while at the same time pointing out that all international organisations must understand that the protection of healthcare and human dignity is neither a privilege nor a luxury./IBNA
Source: AMNA