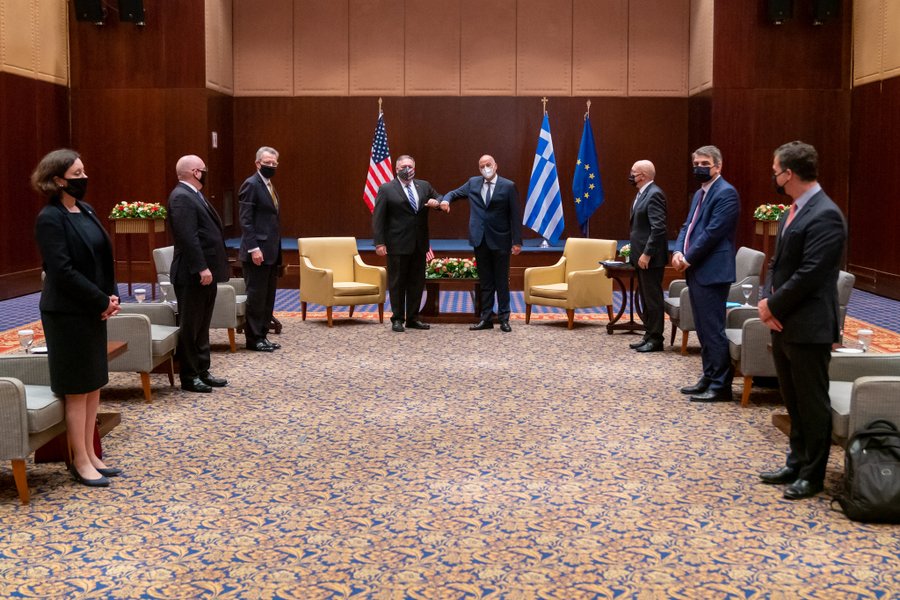 Apart from the removal from today's third statement on the Greece-US Strategic Dialogue of the word "historical" used to characterize the Prespa Agreement in the original text shared and posted on the official website of the Greek Ministry of Foreign Affairs, some parts of the text apear weakened compared to the second joint statement.
For example, in the Joint Declaration of October 7, 2019, it is stated that "Greece and the United States, emphasizing the need to respect the territorial integrity of the countries in the region, noted with concern the illegal and provocative actions that cause tensions in the region, as well as the malicious influence exerted on it".
"The United States and Greece have exchanged views on the Eastern Mediterranean and reaffirmed their belief that maritime demarcation issues must be resolved peacefully in accordance with international law", today's third statement notes, referring to the developments in the Eastern Mediterranean.
Despite what went down in the Eastern Mediterranean following the second meeting in the framework of the Greece-US Strategic Dialogue, including the Turko-Libyan Pact, Coordination Posting, Exploration in Kastelorizo, and minings in Cyprus, the wording of today's statement is clearly weakened.
Furthermore, regarding EastMed, in the first joint statement in December 2018, it is mentioned in the announcement that the USA praised the progress made by Greece in the field of energy projects for the expansion of regional interconnection, including the Revythousa gas terminal, the Trans-Adriatic Natural Gas Pipeline (TAP) and the Greece-Bulgaria Interconnection Pipeline (IGB), expressing its support for the construction of additional infrastructure to diversify transmission and supply routes, such as the proposed EastMed natural gas pipeline terminal in Alexandroupolis, where commercially possible.
The second joint statement in October 2019 states that "the governments of Greece and the United States have recognized the potential of the proposed EastMed gas pipeline in terms of its contribution to energy security and the diversification of energy sources and transport routes in the Eastern Mediterranean".
Finally, in today's joint statement, the EastMed project is further downgraded, as it is mentioned that "the USA and Greece welcomed the completion of the Greek section of the Trans-Adriatic Gas Pipeline (TAP) and look forward to discussing their mutual support in the forthcoming Strategic Dialogue for the Greece-Bulgaria Interconnector, the construction of the floating storage and regasification station LNG (FSRU) in Alexandroupolis, the privatization of the underground gas storage facilities of Kavala, the Greece-North Macedonia Interconnection  and other commercial project including the EastMed Gas Pipeline.
As can be seen from the comparison of the texts, the rhetoric and perhaps the policy on issues crucial for the Foreign and Energy Policy of Greece are changing. /ibna