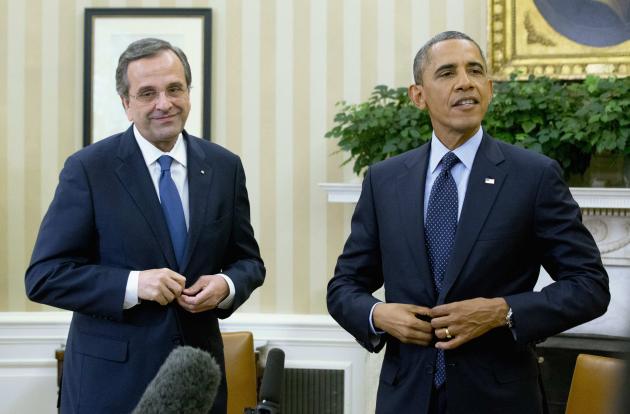 By Lefteris Yallouros – Athens
Boosted by the support expressed by US President Barack Obama to Greek Prime Minister Antonis Samaras last week, the country's government turns its attention to achieving a primary budget surplus in 2013. This is expected to be key in talks with the troika next month as a new audit is scheduled for early September.
The Greek government will be in a much better bargaining position if an overhaul of the civil service already underway is followed by meeting fiscal targets.
Greece posted a primary budget surplus of about EUR 2.5 billion in the first seven months of the year, beating an interim target for a deficit of EUR 3.1 billion for the period.
"We can therefore say that the national target to achieve a primary surplus at the end of the year becomes more and more feasible," deputy finance minister Christos Staikouras told weekly newspaper Realnews.
Furthermore, Finance Minister Yannis Stournaras said that talks on debt relief could start in November provided preliminary data show that a primary surplus in 2013 could be achieved.
Stournaras also said that Greeks cannot tolerate any more across-the-board cuts to wages and pensions, adding however that there was still room for cost-cutting in the state sector.
Government Vice President and Foreign Minister Evangelos Venizelos told the Independent last week that Greece has taken "immense pain" in reducing state spending – which is running at about 35 per cent of GDP on an underlying basis – but now needed help to grow its real economy and tackle soaring unemployment, not more fiscal cuts.
The outcome of the German general elections (September 22nd) is considered crucial in Greece as it will set the basis of talks between the Greek government and the troika. The government hopes by then to be in a position to raise the pressure on its lenders to ease austerity policies being imposed on the economy.
Following the meeting with Barack Obama, Antonis Samaras is expected to step up efforts to convince EU counterparts that Greece is in need of substantial debt relief.