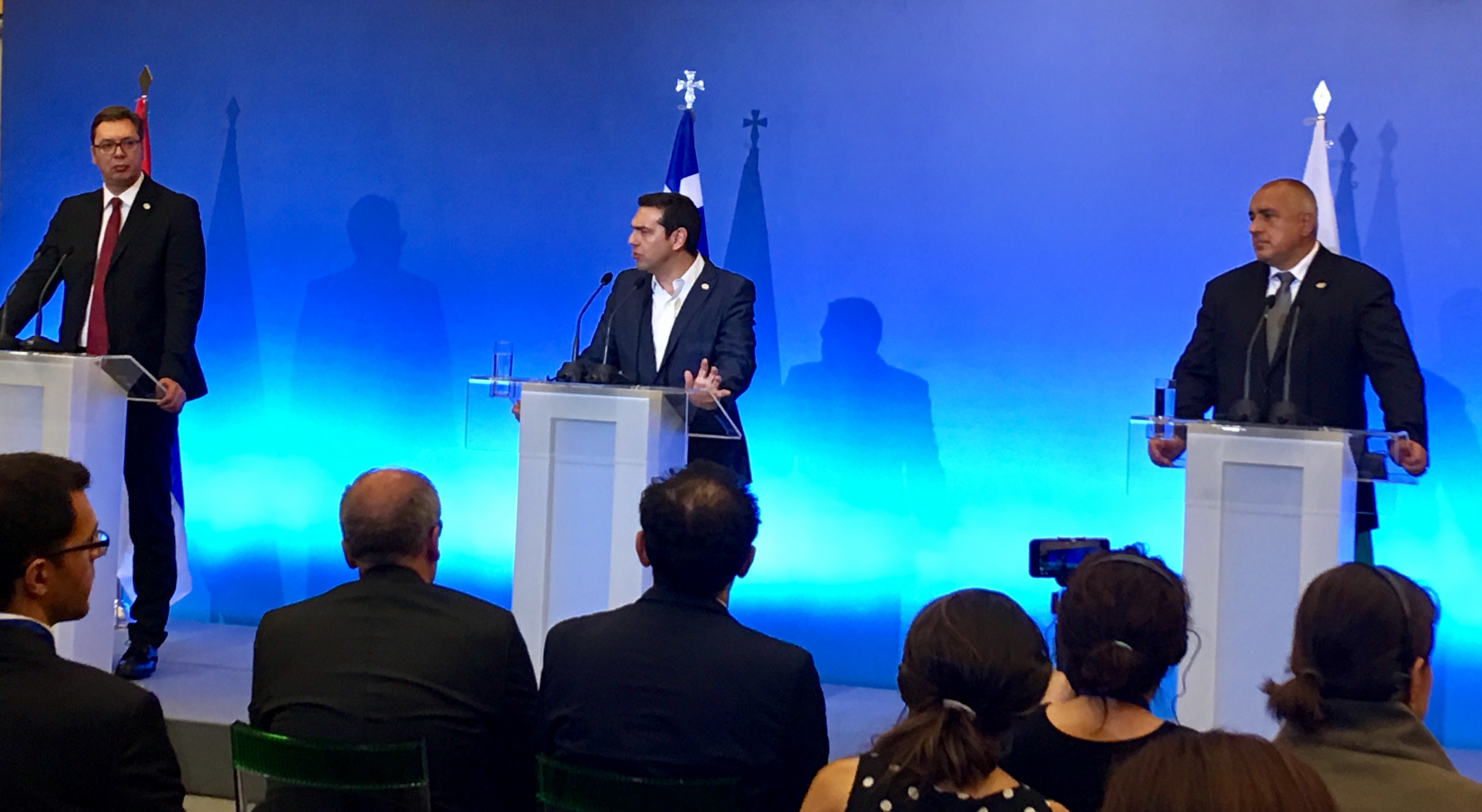 Two EU Member States, Greece and Bulgaria, and the largest in population country in former Yugoslavia, unlocked the door to a partnership that is expected to deliver not only to the three countries but to the whole Balkan region.
Hosted by Alexis Tsipras in Thessaloniki, Serbian President Alexandar Vucic and Bulgarian Prime Minister Boiko Borissov participated in the 1st Tripartite Summit Summit.
The Greek Prime Minister met in private with both the Serbian President and the Bulgarian Prime Minister, followed by the tripartite summit.
As the diplomatic sources from all three countries have emphasized to IBNA, the outcome of the discussions was unexpectedly positive and reflects important developments both in the Balkan region as well as in the EU and South East Europe.
As the axes of stability and security, the three countries are creating a new framework for cooperation in the economy, security, energy, transport and investment sectors in the wider region.
This tripartite cooperation is of great importance for the Balkan region because it leaves out those forces that want to intervene and benefit from them using the Balkan countries as protectorates, and ignoring the specificities of the region.
The initiatives from the three countries on stability, security, European prospects and the development of the Balkans, marks a greater rapprochement between all countries, the elimination of tensions and the stabilisation of normality.
Warning bells concerning unpredictable consequences in the region sounded loud and clear to all three leaders, making them understand that they should take initiatives.
Albania's irredentism and intervention in both FYRO Macedonia and Kosovo with the revival of nationalist tendencies, Turkey's attempt to penetrate the Muslim countries of the Balkans, the intervention of specific countries such as Germany, Austria and Russia seeking satellite countries, are all realities that cannot assist in stability and security since there are conflicting interests.
The creation of the Greece, Bulgaria, Serbia, axis which is linked to historical, cultural and religious ties, becomes a pillar of stability, security and a prospect of economic development through the axes of energy, transport and security cooperation.
Both the statements and the planning of this tripartite cooperation sent the message in all directions that here it's the Balkans, and the assumption of the region's fortunes goes through the countries that can undertake and implement it without nationalist outpourings and interventions from third countries. Countries that can focus solely on stability and development in the region, respecting international law.
The message was clear and it remains to be implemented by Greece, Bulgaria and Serbia, thus changing the balance and correlation in the region, which has the potential, through partnerships, to become a strong player in the EU and the international political scene./ΙΒΝΑ