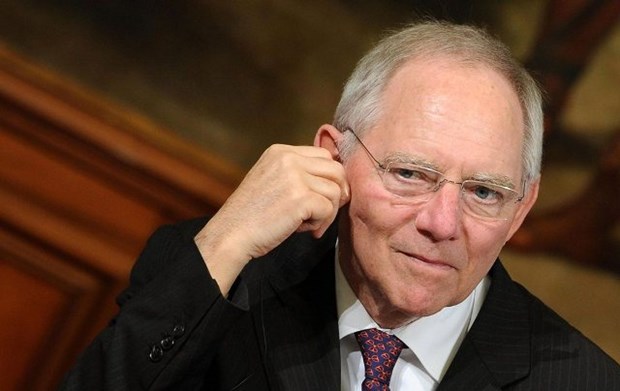 Athens, March 4, 2016/Independent Balkan News Agency
By Spiros Sideris
Greece has not fulfilled its commitments, that is why the evaluate of the greek program has not been concluded, said the German Finance minister Wolfgang Schaeuble and warned Athens not to think that it can use the refugee crisis in order not to apply the conditions of the agreement. Schäuble added that if Germany closed its borders, Greece within 48 hours would be a failed state, and stressed that at the moment, Germany is the only country in Europe that supports it (Greece).
Speaking at an event of the European Institute of the London School of Economics, London, Schäuble said that "the assessment, as I understood at the last meeting of the Eurogroup and will understand and at the next meeting on Monday, has not been completed because Greece still has not achieved what it has agreed for this assessment. It is not a matter of Institutions, it is only a matter of Greece meet what has been agreed. But it is a matter of the Institutions to come up with a solution". He said he knows the financing needs of Greece for the next period, but at the same time how bad is the situation is due to the refugee crisis, which is a big challenge for the country.
It is in Greece's interest not to think of using the migration crisis in order not to implement what has been agreed for overcoming the crisis in the eurozone, said the German finance Minister, because, he said, what has been agreed, must be met: "If you want to improve the competitiveness – and Greece is a very special case – it is difficult to achieve it without the tool of external devaluation, which some european countries had been accustomed to for decades. It is difficult, but good luck and I think we are as supportive as we can", he said.
Referring to the political cost of the implementation of support programs, Wolfgang Schaeuble said that in no country was the program loved, but it always helpful. "There is always the risk of losing the next election", he conceded and said that due to the refugee crisis his own party as well is in danger of being defeated in the upcoming elections in three federal states. "Polls show a large drop, but nevertheless we take our responsibility", he said.
Responding to a question about whether the Grexit has now been withdrawn and whether Germany has "softened" its stance towards Greece as regards social security, Schäuble explained that when he met with Alexis Prime Minister Tsipras, while the latter was still opposition leader, he had told him that during the election campaign he would promise to stay in the euro, but would not accept the program and the condition of reciprocity. "My reaction was to wish him not to win the elections because he would not be able to keep his promise. He promised one thing and six months after he did the opposite. And Greece was forced to pay a terrible price for it. It was very expensive for Greece", he said.
In the summer a decision was taken, Schäuble reminded. "The deal is a deal. Everyone must respect the agreement", he said.
He acknowledged that Greece is in a terrible state because of the refugee crisis: "It suffers from a terrible lack of solidarity from several member states. The only european country that defends Greece these days in the refugee crisis – interestingly enough – is Germany", he said and called for european solutions to the problem.
Asked to comment on the European reaction to the crisis, Mr. Schäuble argued that Europe is moving, though very slowly, often almost boring, and predicted that in the European Council on Monday there will be some movement. He also referred to a discussion he had with his Greek counterpart Euclid Tsakalotos five weeks ago, "I told him that if Germany decided what many of our citizens and many of our neighbors want, two days later the Greece would be a failed state – we will not do it". Not only for Greece, he said, but also for the interests of Europe, which must defend itself, its values. "We can not in Europe save seven billion people, but this does not mean that you should not save those we can", he said and asked to find the right ratio and invest more money in areas close to Syria, while highlighted the fact that his country has allocated 50% of the amount the UN needed for this.
"As Finance minister – being silly, as you may imagine – I told Merkel months ago: Everything you need to do finance areas in order for so many people no to be forced to come to Europe, do it. I will always support this", he concluded.