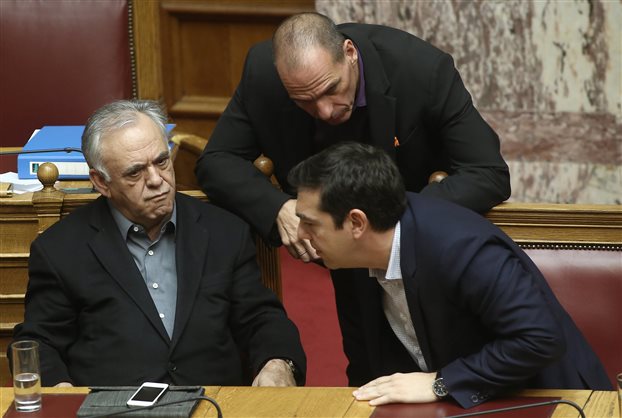 Athens, May 8, 2015/ Independent Balkan News Agency
By Zacharias Petrou
Finance Minister Yanis Varoufakis said the Greek government is prepared to go "down to the wire" in talks with its creditors.
"The solution is to agree on a debt sustainability analysis and a fiscal consolidation plan that makes sense, unlike the ones in the past" Varoufakis told the BBC adding that while there's convergence between the two sides, the Greek government won't bow to creditors' demands for more austerity.
A scheduled Eurogroup meeting on May 11 is considered crucial for Greece as the government hopes to have made enough progress in talks by then to bring on a positive statement from eurozone finance ministers.
The Euro Working Group of technical experts is due to meet on Friday via teleconference. Talks at this level are expected to focus on a new value-added tax rate, fiscal targets, labor market reforms and pension cuts. These are considered some of the biggest sticking points at moment with Greece drawing red lines.
"I hope on Monday a sign of progress will be given and an agreement is visible," Deputy Prime Minister Yiannis Dragasakis told the Guardian. However, European Commission spokesman Margaritis Schinas said on Thursday that it is "premature" to discuss whether a common statement will be issued.
Asked at a press briefing if the government would be able to repay E750 million owed to the International Monetary Fund on May 12 if the Eurogroup did not agree to release liquidity to Athens at its meeting on May 11, government spokesman Gabriel Sakellarides said:
"The government's primary obligation remains to repay its creditors and meet its commitments both abroad and within the country."
Sakellarides said measures and reforms that were agreed would be submitted to parliament for a vote and that a simple majority will be sought.
He defended the government's stance, saying it had not backed down from its "red lines" on labour and pension system reforms and that a joint statement earlier this week by Prime Minister Alexis Tsipras and European Commission President Jean-Claude Juncker "points towards this direction."
"We will not agree to pension cuts and as far as labour reforms are needed, we have not backed down from our red lines," he said, adding that "we also want a viable pension system."
Speaking on Thursday in Chalkidiki, main opposition New Democracy party leader, Antonis Samaras, said the government is on course to introduce measures of harsh austerity. In fact they will be worth fourteen times more than the measures his administration would have taken if it had stayed in power.