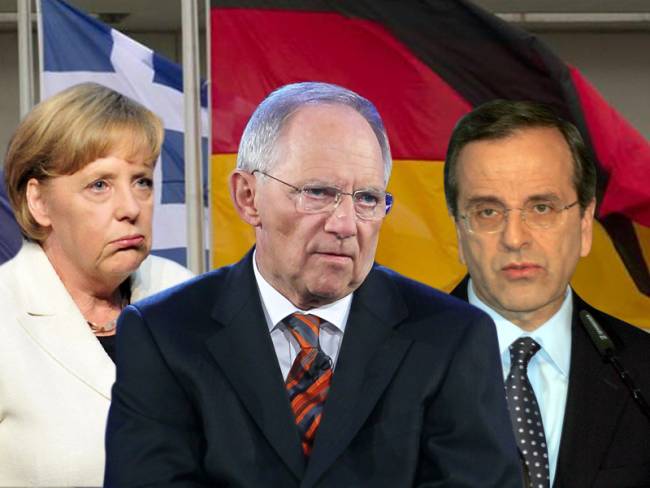 By Lefteris Yallouros – Athens
German Finance Minister Wolfgang Schauble is expected in Athens Thursday to hold talks with Greek Prime Minister Antonis Samaras as well as counterpart Yannis Stournaras.
The visit is taken as a demonstration of confidence towards Greece's coalition government which was rocked last month when the Democratic Left party exited the tripartite coalition.
The Greek Premier announced yesterday VAT will be cut to 13 pct from 23 pct, beginning August 1st. This is the first tax cut since Greece's rescue deal was agreed and Samaras will be hoping to present more positive developments in the next few months.
The country's parliament approved a new package of austerity measures on Wednesday which was needed to secure the next tranche of Greece's rescue loan is disbursed. The bill pushed through by the New Democracy – PASOK ruling majority includes cuts of up to 25,000 in public sector jobs.
Mr. Schauble may not bring news of debt relief for Greece in the form of a new haircut – something the Greek government will welcome the most – but he is expected to sign a memorandum of understanding to lend EUR 100 million which would come from the Kreditanstalt für Wiederaufbau (the German development bank) in order to finance loans to small businesses.
Other than that, it is made clear in all possible tones that Germany, and Mr. Schauble in particular, is not open to any discussion of German reparations for its occupation of the country in the Second World War.
Ahead of the visit, the German government was quick to deny the existence of new holes in the Greek budget. Reports in the German press suggested a hole over EUR 10 billion existed in the Greek financing program which would have to be plugged by new measures or even Germany ultimately accepting that Greece's debt isn't viable and grant the country a haircut on its debt to the official sector.