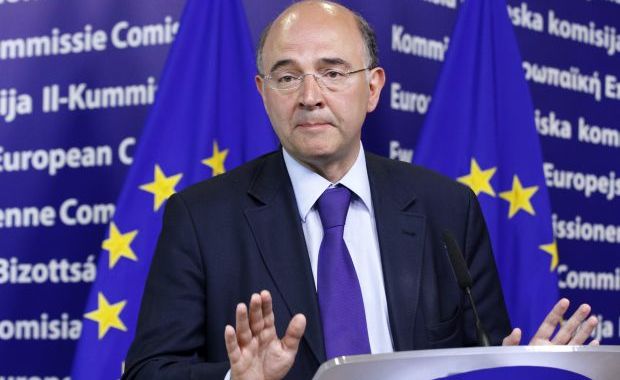 Athens, May 19, 2015/ Independent Balkan News Agency
By Zacharias Petrou
European Economic and Monetary Affairs Commissioner Pierre Moscovici said Monday that Greece and its creditors were closer to a common understanding on many areas of reform.
"We have moved closer to common understanding on reforms to be adopted in a number of areas," he told reporters in Berlin, citing Greece's value-added tax system, its independent revenue administration and the control of non-performing loans.
"The government has also been engaging more constructively on the issue of privatizations. There are also promising signals on the reform of gas markets," said Moscovici.
However, a deal that would ensure Greece receives much-needed bailout cash and thus avoids default is not yet in sight.
"There is very little chance of an agreement between Greece and its creditors at the upcoming Eurogroup scheduled to take place in Riga", a European Commission spokesman said Monday.
Regarding the Brussels Group talks, the EC spokesperson responded that the ongoing discussions were constructive, but underlined that they would have to progress faster.
Greek government sources indicate that Athens is prepared to make further concessions on certain issues in order to agree a deal. One such area is that of VAT rates. The Finance Ministry has reportedly sent a fresh proposal to the Brussels Group which involves three main tax rates (at 18%, 15% and 8%). Creditors are demanding a 20% tax rate for most products and services, with a lower 7% rate for medication and some food products.
Meanwhile, Greek news portal ToVima.gr reported Monday that the EU Commission, together with the European Central Bank and the IMF is negotiating a deal with Athens on behalf of its creditors, offered to disburse new funds in exchange for fewer reforms and smaller primary surplus targets than demanded before.
The Commission denied its President Jean-Claude Juncker has made a new, compromise proposal.
As technical talks drag on, however, Greece continues to be risking default – irrespective of progress made.
"Greece needs an agreement with creditors by the end of the month because of its cash crunch", the government spokesman, Gabriel Sakellaridis said on Monday.
"There should be a solution in May so we can resolve our liquidity issues", Gabriel Sakellaridis told a press briefing session while ruling out a levy on bank deposits as well as signing a third bailout program.
Sakellaridis said the government was sticking to its red lines in negotiations (avoiding pension cuts, having an economic growth plan, a suitable primary surplus target and debt restructuring).
While Greek government sources say a staff level agreement is "very close", Euro Working Group chief Tomas Wieser is reportedly conjuring up an ultimatum to Greece in case agreement is not reached over the next few days.
Developments are expected at the May 21 EU Council meeting in Riga where Alexis Tsipras will meet with German Chancellor Angela Merkel.
"We are at the final straight of negotiations […] very close to reaching a deal with creditors", Prime Minister Alexis Tsipras said during a speech at a Hellenic Federation of Enterprises conference.
Tsipras added that the government has submitted a list of proposals which he hopes will be the basis of an honest compromise.