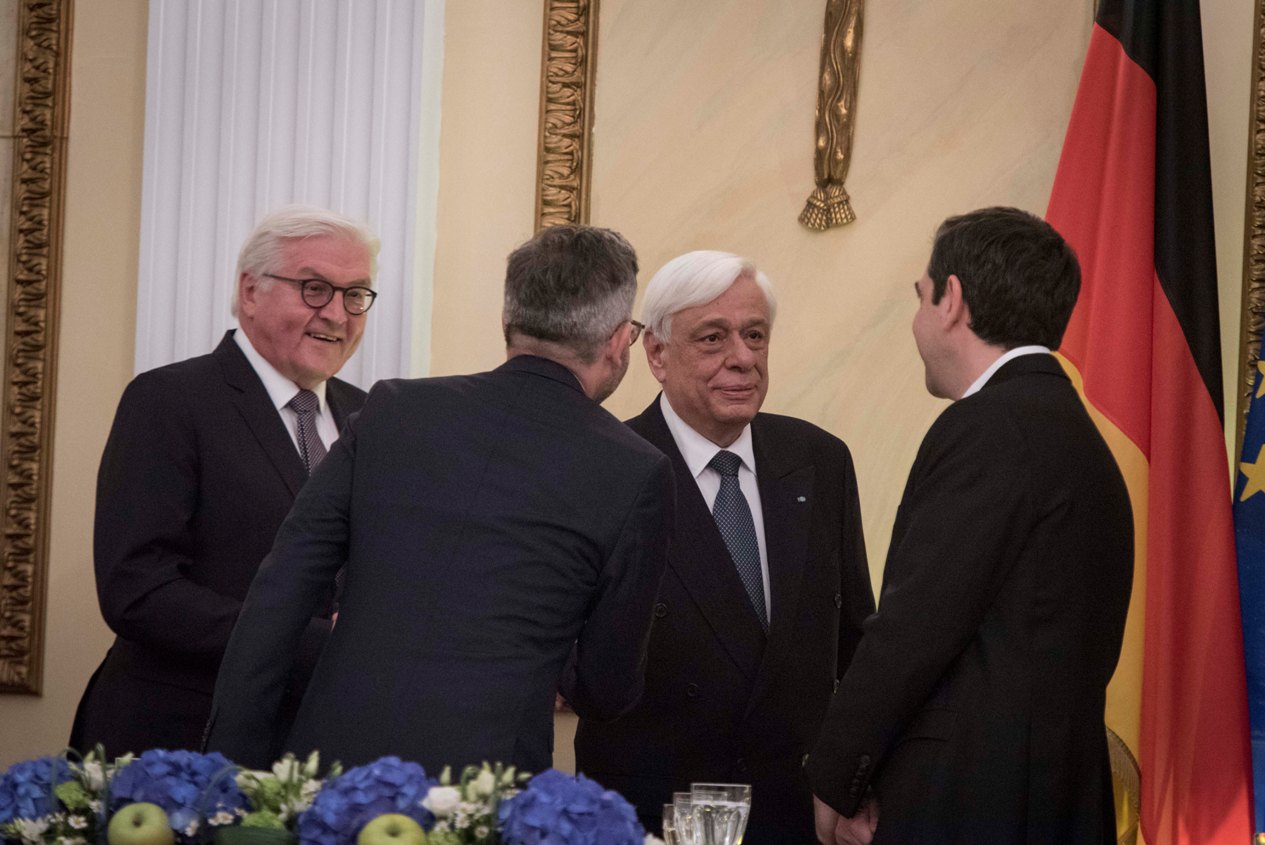 Greece and Germany have an obligation to make the European vision a reality, President Prokopis Pavlopoulos told his German counterpart Frank-Walter Steinmeier during an official dinner in his honour, in Athens on Friday.
"Particularly in the extremely critical conjuncture we are experiencing, we should understand that this great objective can only be achieved on the basis of European culture," he said.
Pavlopoulos welcomed Steinmeier's visit at an important time for Greece and the European Union. "Let's move forward together, Mr President, our two Peoples, each to the extent it is posible, in the road carved out by Constantine Karamanlis and Helmut Schmidt, to defend both our historic mission within our great European family and the fulfillment of the European project, namely the creation of a Federal Europe in terms of representative democracy which fully respects the rule of law, fundamental human rights and therefore free – but not uncontrollable – economy," he said.
He also commented on what he called the "great contemporary problem of international terrorism", which countries have to tackle with "full determination as a crime against humanity", following today's attack in Stockholm.
"We must be relentless against jihadist terrorism. We have to consider this especially today, expressing our solidarity with the people of Sweden, as we did some time ago with Germany, which faced a similar problem, but also in the case of Russia, in St. Petersburg. We are now obliged, all the peoples of Europe, to declare that we will not tolerate terrorism. We will face the terrorists, this barbaric terrorism, as befits criminals who commit crimes against humanity," he said.
He also commented on the country's main national issues concerning Turkey, FYROM and the issue of wartime reparations.
In his reply, Steinmeier recounted the reasons for his new visit to Greece, noting its historic importance, the crisis in Europe after Britain's decision to leave the EU, for which member-states will have to stay united to overcome, the Greek-German relations which go beyond the disbursement of loans and the opening of the contemporary art exhibition documenta14.
He said documenta14 has always been a forum which attracts the interest and leads viewers to a different understanding of events, "even if it is not a comfortable setting for a politician".  "But we need confrontation, this is something Democracy needs because Democracy did not fall from the sky, is not eternal, nor is it for granted," he said.
Steinmeier said this is something that Greece experienced with the dictatorship, when some Greeks, such as [Foreign Minister Nikos Kotzias], [former PASOK prime minister] Kostas Simitis and [ND lawmaker] Dora Bakoyannis, were forced to leave Greece and come to Germany and then return after the restoration of Democracy.
"Therefore, Greeks know its value very well," he said.
The German president noted Greece's economic crisis, saying the country is going through a difficult time and its people have suffered unbearably while at the same time they were called to deal with the refugee crisis. He said Greeks offered a lot to refugees and Germany is grateful. "This is why we ought to support Greece in dealing with it," he said./IBNA