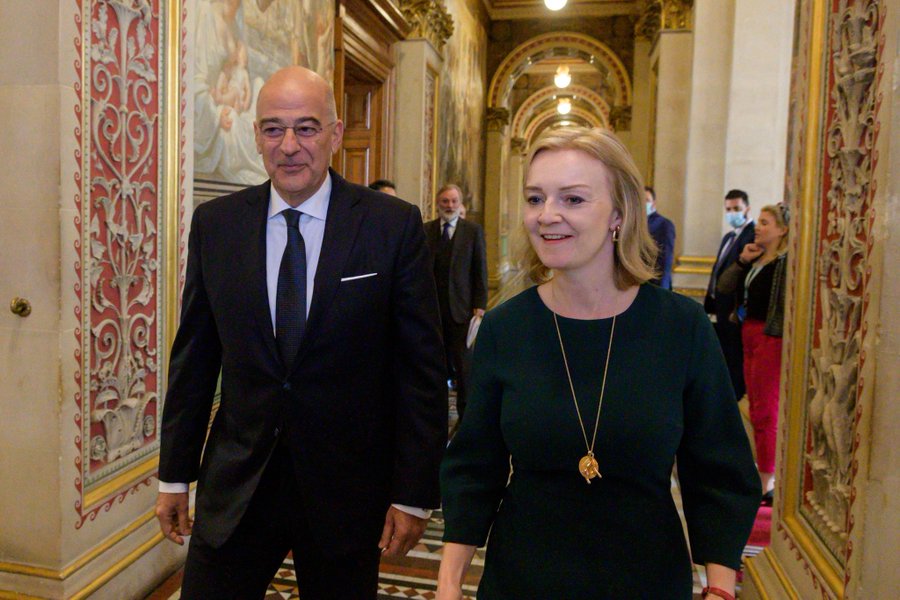 Greek Foreign Minister Nikos Dendias met with UK Foreign Minister Elizabeth Truss in London on Monday. During the meeting they discussed bilateral and regional issues and signed a memorandum of understanding for closer cooperation in a number of areas of common interest.
At the end of the meeting, the Greek Foreign Minister said that they had an extensive discussion on issues related to defence and wider issues, the situation in the Balkans, as well as investment and educational issues, generally the overall scope of Greek-British relations, ahead of Prime Minister Kyriakos Mitsotakis' visit to the UK in mid-November.
According to Nikos Dendias, the discussions were extremely important. "We were also able to see a little bit together the problems we face on the Cyprus problem, the problems in the Eastern Mediterranean, the problems of implementing the Law of the Sea. We had the opportunity to sign a Greek-British agreement that covers the whole range of areas, defence, trade, trade, educational relations, anything that one can imagine that is of interest to the two countries," the Greek Foreign Minister noted.
He went on to say that what he would like to see from now on is "to be able to add substance to this Agreement by implementing it. To develop our relations even further and to prove that the UK's exit from the European Union does not in any way mean a diminution of its relations with Greece. On the contrary, an opportunity for closer, deeper, more sincere bilateral relations."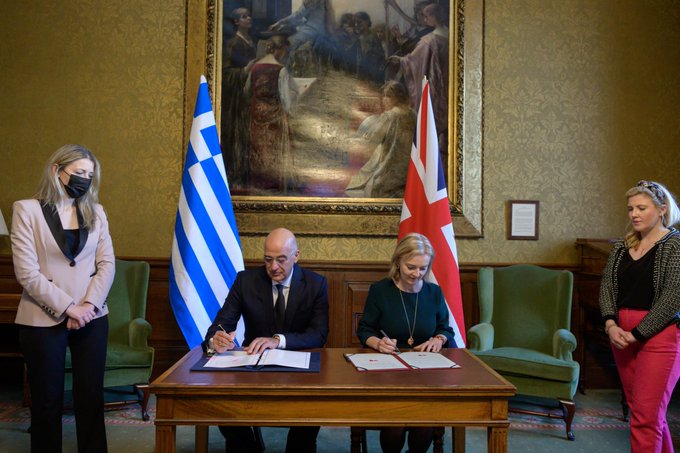 According to the Foreign Office, Elizabeth Truss said that "the framework we've signed with Greece will open up new opportunities for trade and investment in both countries, enabling better cooperation between businesses, investors and industry, and builds on strong security and defence cooperation as we seek to challenge malign actors that threaten to disrupt our freedoms and way of life."
According to the Foreign Office the UK-Greece Strategic Bilateral Framework will build on the strong existing relationship between the UK and Greece. The two countries are committed to working together to promote stability and security as NATO allies, and to enhance Europe's resilience in the face of security threats from malign actors.
The framework will enable individual deals to be done across a range of sectors including foreign policy, defence, trade & investment, health, education, tourism and maritime affairs.
2021 marks 200 years since Britain played an influential role in Greece's struggle for independence./ibna