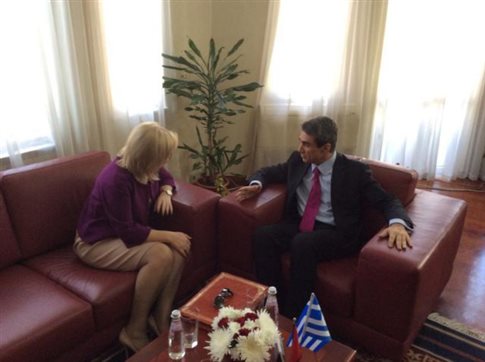 By Spiros Sideris – Athens
Education Minister Andreas Loverdos and his counterpart of Albania Lindita Nikolla declared in their meeting on Wednesday in the neighboring country the start of the works of the "mixed textbook review committee" and signed a protocol on the work method of the Committee.
"Acts constitute politics not words", said Loverdos. "We came here as a delegation to cooperate and take with your decisions. There is this very good political framework between the governments of both countries and now we as Ministers of Education specialise these very good relations to our subject", he said.
"Especially in our field we have in our cooperation an agreement which we must apply it. Our universities, our structures in Primary and Secondary Education, our research centers, our archives, our libraries and other areas in education between the two countries should come in closer contact to develop partnerships", he continued.
He added that discussions will begin on the cooperation in primary and secondary education at another meeting to be held in Athens in January 2015.