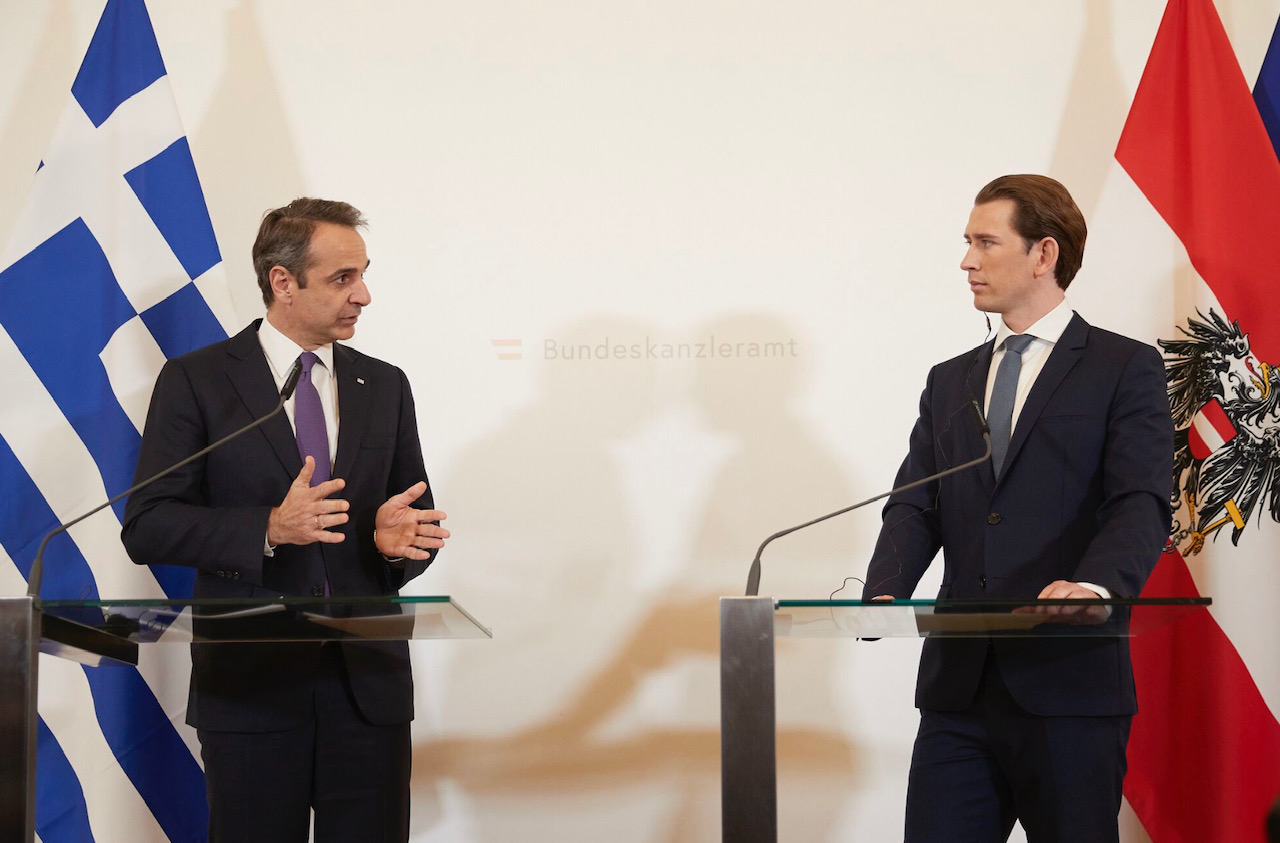 Greek Prime Minister Kyriakos Mitsotakis met with Austrian Chancellor Sebastian Kurz in Vienna on Tuesday, 10 March, while paying an official visit to Austria.
The talks between the two leaders and the delegations of the two countries, according to government sources, revolved around the current developments in the migration issue, on which Sebastian Kurz expressed his full confidence in the Greek Government's ability to handle such an explosive problem threatening the Greek borders, which are also European borders. Furthermore, after the recent visit to Athens by Austrian Foreign Minister Schallenberg, he once again reaffirmed his country's readiness to assist Greece effectively. Already, as stated by Kyriakos Mitsotakis, the Austrian flag is waving in Evros next to the Greek and the Cypriot one- while more flags from European countries are expected soon.
The meeting also touched upon the situation in the Eastern Mediterranean, as well as the European perspective of the Western Balkan countries.
The coronavirus issue, which constitutes an extraordinary Public Health problem concerning not only Europe but the whole planet, was also discussed. In this context, Kyriakos Mitsotakis emphasized that, given the recent developments, the measures taken by the Greek government would be updated. As part of the precautionary measures, the Ministry of Health accepted the recommendation of the Committee of Scientists to close all universities, technological institutes, schools and nurseries for 14 days.
He added that it was very important for time from now on to be used to protect the vulnerable population, but also to further strengthen the National Health System.
The two countries' excellent bilateral relations were confirmed and the potential for further strengthening economic and commercial cooperation between the two countries was further explored, with emphasis placed both on investments and the energy sector.
Both sides underlined their willingness to work together on climate change and the green economy. Particular mention was made of the cooperation between the two countries in the field of tourism. Kyriakos Mitsotakis and Austrian Chancellor Sebastian Kurz agreed on closer collaboration between the two countries' stakeholders with a twofold goal: firstly, to upgrade tourism education in Greece by drawing on the best practices of the highly successful Austrian model; secondly, the promotion of alternative forms of tourism, such as winter tourism and wellness tourism, which are well-developed and expand throughout the year.
At the same time, given the strong historical ties that link Greece and Austria in the field of culture and homogeneity, the ever-expanding tourist cooperation was highlighted.
Before leaving for Austria on Tuesday morning, Kyriakos Mitsotakis held private meetings in the German capital with politicians, representatives of large companies and players in the German economy.
According to government sources, the common denominator of all these meetings was that Greece is back on the radar of international investors, a development which will lead to new investments, job openings and growth for the country. /ibna
Photo: D Papamitsos / PM-PO