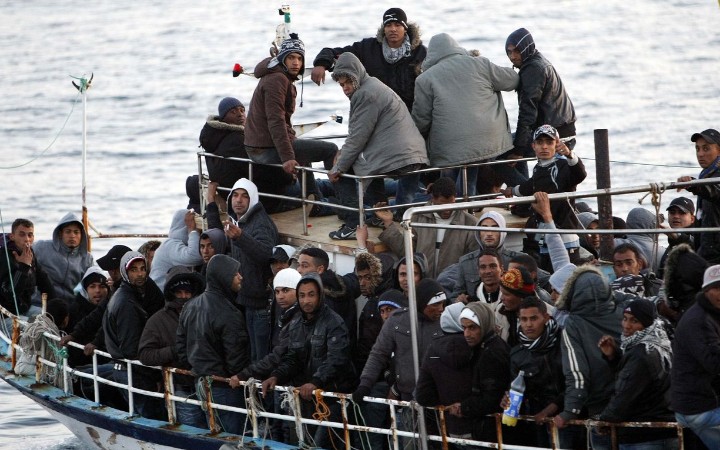 Athens, January 20, 2016/Independent Balkan News Agency
By Olga Mavrou
Since the beginning of 2016, according to IOM (the International Organization for Migration) 31,244 migrants and refugees had arrived to Greece by sea, compared to 1,472 recorded arrivals on the Greek islands in January last year.
Spokesman Itayi Viriri told reporters in Geneva that this number "does not bode well for the rest of the year".
In 2015, more than one million migrants risked their lives and managed to reach Europe – half of them Syrians.
"The number of arrivals in Greece last year was initially small, but by the end of the year the country alone saw well over 850,000 arrivals", said the IOM spokesman who also noted that  this year nearly 90 %  of those  arriving in Greece so far are Syrians, Afghans and Iraqis. Most of them are not staying in Greece. Nearly 31,000 migrants had crossed the border to FYROM since the beginning of the month.
Italy counted only  154,000 arrivals in 2015 and for the moment the Italians count (since January 1) only 607 migrants, mainly from sub-Saharan Africa.
Austria: Refugee crisis more serious than the greek debt
Austria's finance minister Hans Joerg Schelling said Tuesday at a conference sponsored by Euromoney in Vienna., that Europe should face the refugee issue with the same and even bigger veracity as when they tackled the economic crisis in Greece.
"It's a problem that will take much longer to solve,"  said the Austrian minister.
In the mean time Austrian Foreign Minister Sebastian Kurz said "Austria  must set a ceiling on the number of people it can accept. Fewer refugees would arrive if Germany, Sweden and Austria closed their borders".
The Eastern countries
Many  EU governments are hardening their stance  following last year's arrival of more than a million people, mainly from the Middle East. German Chancellor Angela Merkel faces also a revolt in her ruling party against her policy of keeping Germany open.
Poland, Hungary, Slovakia and the Czech Republic have rejected a deal about the number of migrants they are obliged to accept. Hungary and Slovenia have built fences to partially close their borders for migrants traveling via Turkey and Greece  and the countries of former Yugoslavia to reach  richer eyropean countries in  the north. Slovenian Prime Minister Miro Cerar urged EU members to step up assistance to Greece, the main migrant entry point from Turkey and said that the Former Yugoslav Republic of Macedonia (FYROM),  needed also help to become a "second line of defense."  He also said that Slovenia will have to turn refugees away as northern EU members turn toward more restrictive policies.
The Turkey issue
The continued influx is increasing the discontent of EU with Turkey, for not doing enough to limit the numbers crossing the Aegean Sea. According to the agreement of November, EU would provide Turkey with three billion euros for addressing the refugee crisis and minimizing the influx to Greece.
Still, many countries don' t seem to understand how difficult  it is to patrol every meter of the coast or every mile of the sea especially  when people are desperate to move on to "a better life". Till now, in January alone,  95 of them were drowned…