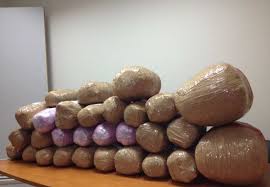 By Spiros Sideris – Athens
Large quantity of hashish, weighing 114.9 kilograms, was transporting in his car a 43-year old Albanian in the highway Ioannina- Kakavia. Both the drugs and the car were seized by the police in the late afternoon in Agia Marina Perama.
In particular, the car which was loaded with drugs, aroused the suspicions of the police team OPKE who had set up a road block on the highway Ioanninon- Kakavia in the position of Lykostomo. To the signal to stop for a police check, the driver of the vehicle increased speed in order to escape, and followed a persecution. When the IX was immobilized in Agia Marina, police officers found on it 13 large packages of hashish. The Albanian driver was arrested, while the drugs and the car which belonged to another Albanian were seized.