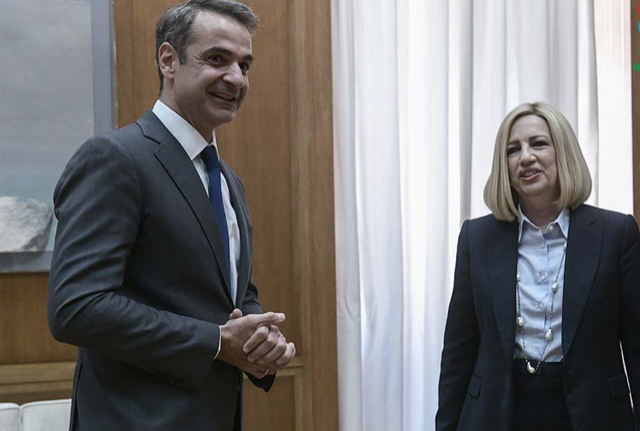 Today, Greek Prime Minister Kyriakos Mitsotakis held successive meetings in his office in Parliament with the Chairman of the SYRIZA Parliamentary Group Alexis Tsipras, as well as with the Chairman of the Parliamentary Group of the Movement for Change, Fofi Gennimata.
According to the announcement issued by the Prime Minister's Office, Kyriakos Mitsotakis briefed the two political leaders on the results of the European Council and the developments regarding national issues, while reaching out for their proposals.
According to the announcement, fruitful dialogue and conciliation between the political forces is a constant pursuit of the Prime Minister and the government. This climate, despite the personal differences, was reflected in the substantive discussions that took place during the meetings.
The Prime Minister, the announcement concludes, will continue his meetings in the afternoon with the President of the Greek Solution party, Kyriakos Velopoulos, while on Friday he will meet with the General Secretary of the Communist Party of Greece Dimitris Koutsoumpas and DiEM25 Secretary Yanis Varoufakis.
After her meeting and the briefing by Prime Minister Kyriakos Mitsotakis, the President of the Movement for Change Fofi Gennimata issued the following statement:
"These are crucial moments for this land. Turkish aggression is escalating dangerously, challenging both Greece and Europe.
As Greeks, we must rise to the occasion with sobriety, confidence and determination.
No blackmail under the pretext of Turkey's unacceptable claims should go unanswered.
Greece can and must prevent it". /ibna