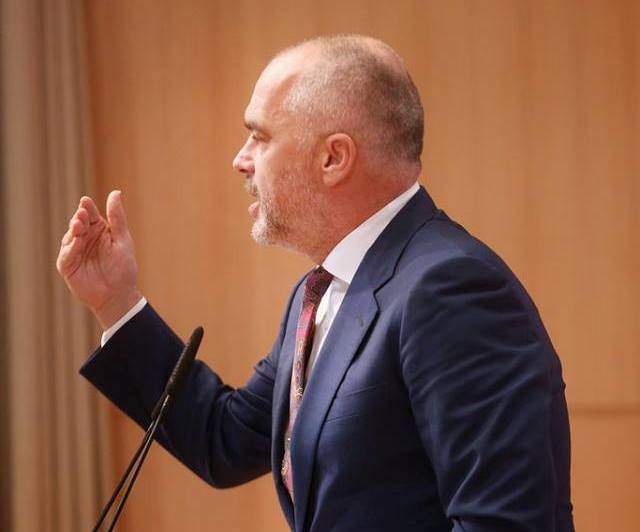 Tirana, 2 September 2015/Independent Balkan News Agency
By Edison Kurani
Albania's neighboring countries believe that Greater Albania is a project which is still alive in the mentality of Albanians and some of the country's politicians.
But, PM Edi Rama insists that Tirana has no plans for a unification of Albanian lands beyond the border and that it has no territorial claims toward the neighbors.
On an Austrian TV debate, Mr. Rama said that his country, in collaboration with countries outside the EU, is discussing an economic Union, "which would transform the entire joint space, Serbia, Kosovo, Albania, Montenegro, Macedonia, Bosnia into a space without any barriers, the same as Germany, Italy, France, within the EU".
In this point, Mr. Rama poses a question: "Is it logical to carry on talking about a Greater Albania in these circumstances, when we live in an entirely different world, in another time and when the possibilities to be together are completely different?!"
For Mr. Rama, declarations for the so called Greater Albania are "myths of the past". But he also expresses his concern that these "myths" "fuel primitive nationalism which has nothing to do with the world that young people who choose to leave or stay deserve and who still don't have what they deserve".
On the other hand, Mr. Rama says that the unification of Albanians must happen, but in the framework of the EU. "I have believed and still believe that the dream of Albanians to live together is legitimate. But, in the current century, we must not leave this dream in the hands of those forces that are fueled with the myths of the past. We must realize this dream as a European dream and live together, not only among Albanians, but also with Serbs, Croatians, Montenegrins, in the EU. The EU path is the path of the unification of us Albanians and the others".
However, Mr. Rama warns that the plans for a Greater Albania can reawaken if the EU doesn't seriously deal with the region: "What I have said and will say is that if the EU doesn't show a strategy with the Balkans and will not enable Balkans nations to live together, for Serbs to feel united, although there may be administrative borders today, for Albanians to feel united, although there may be administrative borders , then the forces of past, the myths of the past are ready to come back and be stronger than us, who are clearly positioned for a European Albania, for a European Serbia, for a European Balkans. This is my conviction". /ibna/