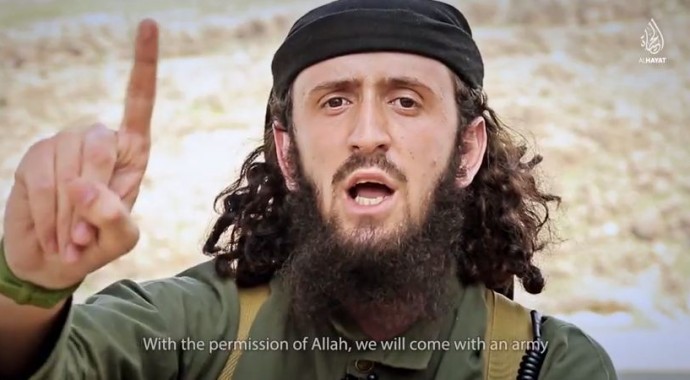 Tirana, 5 June 2015/Independent Balkan News Agency
By Edison Kurani
ISIS media section, Alhayat Media Center, has published a propaganda documentary on the Balkan, in which its members launch accusations and threats against the unfaithful in the Balkan.
The video message published in the recent hours and which can be found in full by clicking here, talks in the first 20 minutes about the people of the Balkan and stops on Albanians in Albania and Kosovo.
The message criticizes atheism during the communist regime and the former communist dictator Enver Hoxha.
The two Albanians who speak on the message are Abu Bilqis (Al Albani), on minute 5:50 and Abu Muqatil (Al Kosovo), on minute 15:15. It's clear that these are not their real names, but it's a known fact that devoted believers change their names when they join the religion.
Their message is threatening, when they say that they have an advice for those in the Balkan who are unfaithful.
"I send a message to taghuts (*taghut-those who praise idols and not Allah) in Kosovo, Macedonia and Albania and all of the Balkan: do not think that we have forgotten what you do to Muslims. Do not think that we have forgotten your hostility to God. Do not think that we have forgotten how you underestimate Muslims and Allah's faith".
IS's public warnings continue with vows in the name of God: "Vallahi (we vow in the name of God-translator's note) that terrible days will rain upon you. You will be scared of walking on the road. You will be afraid of working in your offices. You will be afraid and terrified to stay in your homes. We will defeat you with the permission of Allah. We will kill you with the permission of Allah. We will attack you with explosives".
Official authorities have not reacted until now, but security measures for war against terrorism have grown and this has also been recently claimed by the ministry of Interior, Saimir Tahiri.
Albanian Intellectual Muslim Forum reacted by saying that it finds nothing human in the message where ISIS militants threaten Albania and the entire Balkan.
"There's nothing human in their speech. They do not resemble or represent any creed, although they speak on behalf of it", this Forum says.
Meanwhile, the Intellectual Muslim Forum calls on competent authorities to react and take the necessary measures against these threats, based on the fact that the two men who appear on the video speak Albanian.
The Forum also calls on imams in all of Albania and Albanian speaking lands to use Friday's lecture as a strong counter response against this language of hate.
"Muslim Intellectual Forum, along with Muslim believers and all partner associations will work in order to encourage good deeds which serve the community in which we live. To convey the values and the message that Islam, the religion of peace and tolerance, has nothing to do with these people, who know nothing else but violence and terror".
Albanian journalists threatened by IS
Aurora Koromani, journalist at "Fokus" media group in Albania, which has two TV networks, 2 radio stations and one newspaper, is reported to have been threatened by IS.
This journalist is reported  to have been threatened by a person suspected of being an Islamic militant declared wanted by Albanian authorities for terrorism. The threatening message that Koromani received on Tuesday said: "You will pay".
State Police spokesman, Gentian Mullai declared on Thursday that authorities were treating this as a serious threat against Aurora Koromani, while offering protection for her.
Koromani, a journalist of this media group, has covered the recruitment of Albanian Muslims who go and fight alongside Islamic State in Syria.
Currently, nine Albanian Muslims, including two preachers are facing trial in Tirana on such accusations.
Albanian world champion in Thai Boxing, Valdet Gashi: I joined ISIS
A two-time world Thai Boxing Champion from Germany, Valdet Gashi, has joined the Islamic State (Isis) in Syria.
Gashi had travelled to Syria with three other Thai boxers Sandro, Visar and Hajan.
The four friends also reportedly took part in a battle in Syria, during which Hajan, a Kurdish Muslim, was killed.
For months Valdet Gashi lied to his family, saying he was in Switzerland and Thailand. He even kept up the pretence alive through his Facebook posts.
One of his latest posts in May claimed that he was in Bangkok. However, it has now been established that Valdet Gashi travelled to Syria in January.
Gashi, who is married and has two daughters, told Rundschau that he was longing to hold his daughters in his arms  but would be happier to die for 'Allah', waging jihad in Syria.
After it emerged that the German boxer, who has roots in Albania, has joined the Isis, Gashi posted a message on Facebook, requesting his family and friends to wait for an explanation from him before judging him.
"Don't Judge… before you know the whole story…Before you begin to to judge me because of what I do, wait till you know the whole story," he said the post.
The investigations have found that Gashi, who lived with his family in Singen, Baden-Wurttemberg, used to attend the An'Nur Mosque along with the other three jihadi fighters from Germany who have joined the Isis.
The 29-year old Albanian Muslim was born in Pristina, Kosovo, but was raised in Germany.
In the meantime, the family of the well-known Thai boxer has urged him to return to Germany. His father Enwar Gashi told Rundschau that Valdet should return home. His place is with his children, wife and parents. If he wants to help Muslims, he should return home and work here and not the "nonsense" in Syria.
***
In Albania, a country with around 3 million people, at least 70% belong to the Muslim faith. A small part of them regularly practice religious rites.
Some hundreds of devoted Muslims are believed to have joined fights in Syria.
Albanian Muslim Community has launched several public appeals in order for nobody to join IS groups, considering them as rebels. "We are following with concern what is happening in the recent days in Middle East, especially the criminal persecutions that ISIS terrorists in Iraq are exerting against local Christian population and even against Muslims and other minorities. We strongly condemn such criminal acts which have nothing in common with the basic principles of our faiths. We pray to God who has created us all, to restore peace and dignity in those areas. In the name of God, we demand for weapons to be lowered and for peace and cohabitation to be sought". /ibna/