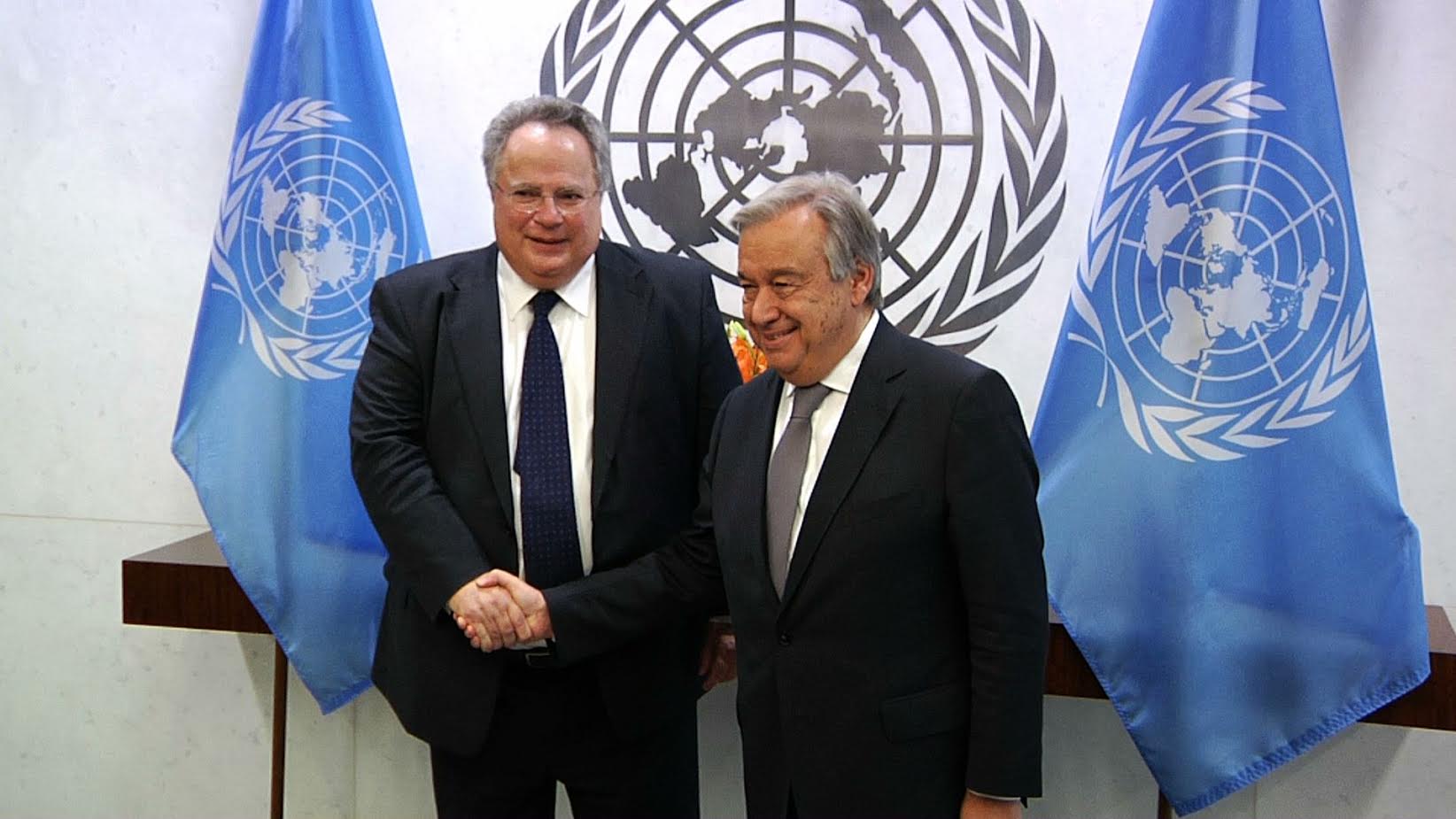 Greek Foreign Minister Nikos Kotzias completed his meeting with the UN Secretary-General Antonio Guterres in New York, on the sidelines of the UN General Assembly High Level Week. Nikos Kotzias stated that they had an interesting conversation, during which the SG "once again expressed his solidarity for Greece's stance to the immigration problem".
The Greek Foreign Minister highlighted three issues the discussion focused on.
The first concerns the UN reforms, regarding which, according to the FM, the Greek side fully support the SG's proposals. "In addition, I have formulated our own proposal for the creation of a global parliamentary body that will have the potential to make the UN more attractive and bring it closer to the everyday lives of citizens. It's an issue that wneeds a lot of work, but I have the impression he likes it as well", Mr Kotzias said.
The second issue that was discussed was Skopje, in the presence of Mr Nimetz, who met the day before yesterday with Mr Vassilakis in London on the course of the discussions. "As you know, by October, the neighboring country will be dealing with issues related to local self-government elections. After that, I think there is a window of opportunity, provided irredentism is struck, to discuss the name issue as well", the FM stressed.
The third issue that was discussed was the Cyprus problem. "We have expressed our willingness to continue in the context of the discussions we have had in Crans-Montana, in particular on the proposals made by the Secretary-General in the end and with which we were in agreement. I also stressed the need to preserve the acquis of the only UN document deposited during the negotiation, on the last night, which referred to the context in which the decisions, with which one could also abolish the Treaty Guarantees, the invention rights and so on, could be implemented. Unfortunately, this text, as you know, that evening, except by myself and partly Cyprus, was not discussed by the other sides. It was sabotaged mainly by the British. It is, however, a text that the Secretary-General himself put on the table and which is a good basis to continue our discussions".
A journalist asked Mr Kotzias to comment on President Erdogan's statements, in which he defended his choices for the purchase of the S-400, saying in an interview that when Greece purchased the S-300there was no reaction. (This was an eroneous question on the part of the journalist, since the S-300 had been purchased by the Republic of Cyprus and where place in Crete with the assent of the United States).
The Greek FM's response was "that one has to study history better and see the proportions in a more correct way. Unfortunately, I do not have the time to clarify the historical issues right now, but we will".
To the question how he views this "meditation" period regarding the Cyprus problem, in light of the continuous provocations by the Turkish side, Mr Kotzias replied that "we must keep two things. The first is – I see a success of Greek diplomacy – that since the beginning of the negotiations – I mean 2016 – has been aceepted the principle that it is an open negotiation, which is not over. It is continuous, what we call open ended. We will therefore continue from Geneva 1 and Crans-Montana, Geneva 2 that is, as long as the sides want it. At the moment, one side does not seem willing to make a substantive discussion, which they avoided in Crans-Montana. I think it is an obligation for all of us to help solve the Cyprus problem for the benefit of all the population of Cyprus – the two communities and the three small minorities – and not for the benefit of a third country./IBNA