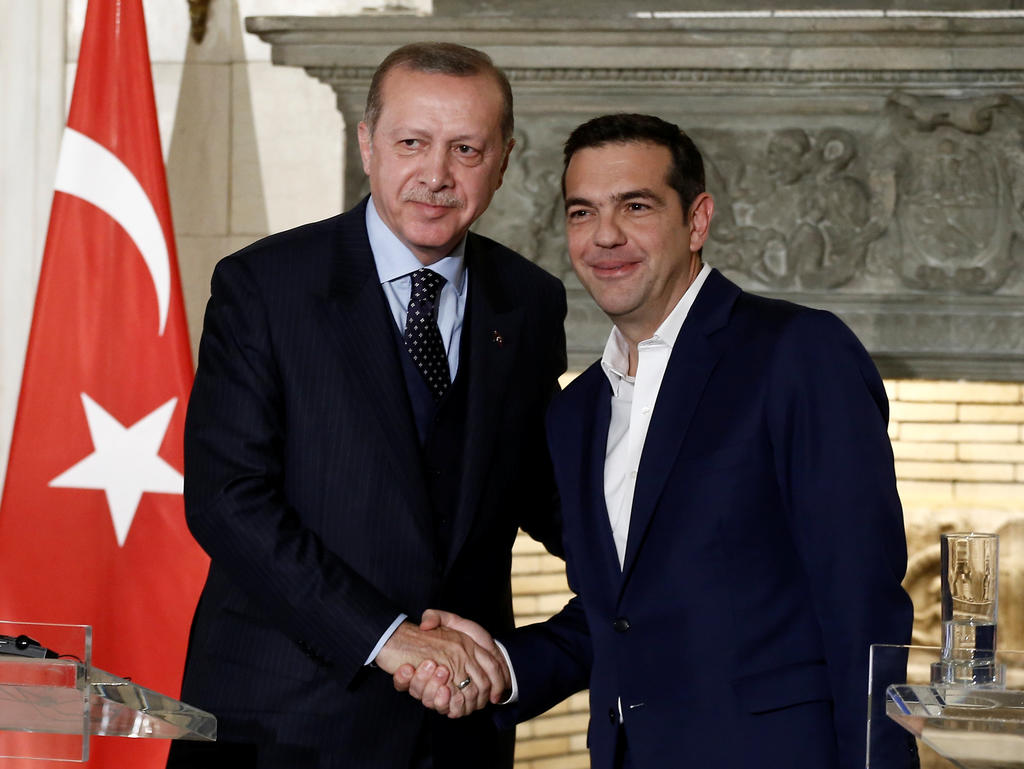 Grčki premijer Alekis Tsipras pozvao je EU da "učini sve što je u njenoj moći da podrži Tursku" koja trenutno ugošćuje četiri miliona izbeglica.
U ekskluzivnom intervjuu za Agenciju Anadolija i Furkan Naci Top, Tsipras je odgovorio na pitanja o odnosima Turske i Grčke, izbjegličkoj krizi i dugogodišnjem kiparskom pitanju.
"Verujem da je Turska preuzela veliki teret prihvatajući četiri miliona izbeglica. To bi uvek trebalo biti priznato od strane međunarodne zajednice i EU bi trebala učiniti sve što je u njenoj moći kako bi podržala naše komšije," rekao je grčki premijer koji će boraviti u dvodnevnoj poseti Ankari i Istanbulu ove nedelje.
Sporazum između Turske i EU o izbeglicama postignut u martu 2016. ima za cilj da obeshrabri nezakonitu migraciju u Evropu preko Egejskog mora.
"Kao rezultat [sporazuma], ilegalni tokovi, a pogotovo smrt migranata u Egejskom moru, drastično su se smanjili," rekao je Tsipras.
Sporazum je uključivao paket pomoći od 6 milijardi eura (6,8 milijardi dolara) kao podrška Turskoj da se brine o milionima izbeglica u zemlji. Međutim, Turska je do sada dobila samo deo obavezanog iznosa. Sporazum je takođe omogućio ubrzanje kandidature Turske za članstvo u EU i bezvizna putovanja za turske državljane unutar šengenskog prostora.
Tsipras je takođe rekao da bi Turska i Grčka trebalo da "intenziviraju" svoju saradnju u pogledu protoka izbeglica od kada su "grčka ostrva preopterećena u poslednjih nekoliko godina".
Grčki premijer je rekao da njegova zemlja ima jednu od najbržih procedura za azil i da "naporno rade" da bi ona postala efikasnija. Neki evropski lideri, kao što je Angela Merkel, okrivili su grčku stranu za dogovor koji "ne funkcioniše kako treba".
"EU, sa svoje strane, mora pronaći način da ojača podršku koju pokazuje zemljama koje su najviše pogođene protokom izbeglica i da odbaci planove koji nisu kompatibilni sa evropskim zakonom ili humanitarnim principima", rekao je Tsipras.
– Razgovori o Kipru
Na pitanje da li postoji mogućnost novih razgovora o kiparskom pitanju, Tsipras je rekao da strane treba da nastave da rade na "pravičnom i održivom rešenju na osnovu odluka Saveta bezbednosti UN" uprkos izborima u obe zemlje zakazanim za ovu godinu.
Ovo ostrvo u istočnom Mediteranu podeljeno je od 1974. godine, kada je državni udar kiparskih Grka bio praćen nasiljem protiv ostrvskih Turaka, i intervencijom Ankare kao snažnog garanta.
"Ponovno ujedinjenje ostrva na toj osnovi je jedino moguće rešenje", rekao je on, pozivajući na "efikasne pripremne sastanke" o sigurnosnom pitanju s turskom stranom.
Tokom proteklih godina bilo je više faza prestanka i početka mirovnih pregovora. Razgovori u Crans-Montani 2017. godine, što je bila poslednja inicijativa, pod pokroviteljstvom zemalja garanta Turske, Grčke i Velike Britanije – završile su se neuspjehom.
– "Istorijski koraci u grčko-turskim odnosima"
Što se tiče bilateralnih odnosa dve susedne zemlje, on je rekao: "Moraju se stvoriti uslovi u grčko-turskim odnosima da se istorijski koraci odigraju."
U vezi sa svojim ličnim odnosom sa turskim predsednikom Redžepom Tayyipom Erdoganom, grčki lider je rekao da se on zasniva na "poštovanju, poštenju i neposrednosti", iako se "odvija u veoma teškim trenucima".
"Ali to nam je omogućilo da konsolidujemo kanale komunikacije na mnogim nivoima, da prevaziđemo prepreke i da danas možemo govoriti o pozitivnom programu," rekao je on.
"Tokom moje posete verujem da ćemo imati priliku da nastavimo težak, ali iskren dijalog koji smo započeli u decembru 2017. godine i da nastavimo naš pozitivan program odande odakle smo ga i ostavili," dodao je on, podsećajući na posetu turskog predsednika Atini, koja je bila prva na predsedničkom nivou nakon 65 godina.
Grčki premijer treba da se sastane sa liderom grčke pravoslavne crkve u Feneru, Istanbul, partijarhom Bartolomejem nakon njegove posete Ankari.
Tsipras je takođe govorio o razvoju događaja u vezi sa verskim slobodama muslimanske turske manjine u Grčkoj, što je pitanje koje je Erdogan postavio u svojoj poseti Atini 2017. godine.
"Ugovor iz Lozane je primjenjiva međunarodna konvencija o manjinama, tako da na ovoj osnovi međusobno obaveštavamo jedan drugog o relevantnom razvoju događaja," rekao je Tsipras, označavajući pitanje kao unutrašnje, a ne kao bilateralno.
"Do sada smo napravili važne korake u implementaciji šerijatskog zakona, strukturi i funkciji muftijskog ureda i obrazovnim pitanjima. Nastavićemo u tom smeru", rekao je grčki lider.
Izbor muslimanskih verskih vođa ili muftija bio je ključni problem muslimanske turske manjine u Grčkoj od oko 150.000pripadnika – koncentrisanih u regiji Zapadna Trakija – od 1991. godine.
Sporazum iz Lozane iz 1923. takođe garantuje versku slobodu muslimanske manjine u Grčkoj. Međutim, Grčka je 1991. godine poništila grčki zakon i počela sama imenovati muftiju. / IBNA