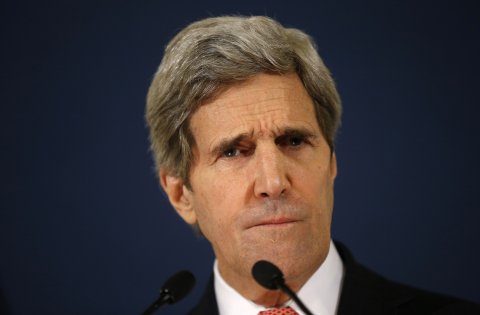 By Milos Mitrovic – Belgrade
US Secretary of State John Kerry expressed the gratitude of his country to Serbia over Belgrade's support to fight against the Islamic State of Iraq and Syria. Kerry sent a letter to Prime Minister Aleksandar Vucic "on behalf President Barack Obama", Serbian media reported today.
Kerry underlined that the United States appreciate Serbia's commitment to international peace and determination to confront ISIS, Serbian government's Office for cooperation with media declared.
State Department's head also praised the leadership role of the Prime Minister Vucic considering the dialogue between Belgrade and Pristina adding that the full implementation of the Brussels agreement on normalization of the relations would significantly accelerate the process of Serbia's integration into EU and improve the stability in the region.
"The United States is ready to closely cooperate with the Republic of Serbia during its presidency in Organization for European Security and Cooperation in 2015. The strong consultative leadership of the OSCE has now the special importance considering the fact that Europe is now faced with one of the most difficult challenges for its security in the recent decades", John Kerry concluded in his letter to Vucic.
In September, premier Vucic announced that Serbia was ready "to support the fight (against ISIS) with the limited capacities in its disposal". Earlier this year government decided to take stronger stance against those Serbian nationals who intent to join war in Iraq and Syria. Such actions are to be treated as criminal offense, Serbia's officials announced.
Experts also stress that Serbia may help the anti-terror fight through the exchange of information.
It's expected that Belgrade during its OSCE Presidency in 2015 would be under pressure by both West and Russia over the Ukraine crisis. Serbia respects the territorial integrity of Ukraine including Crimea, but refuses to impose any sanctions against Russia.