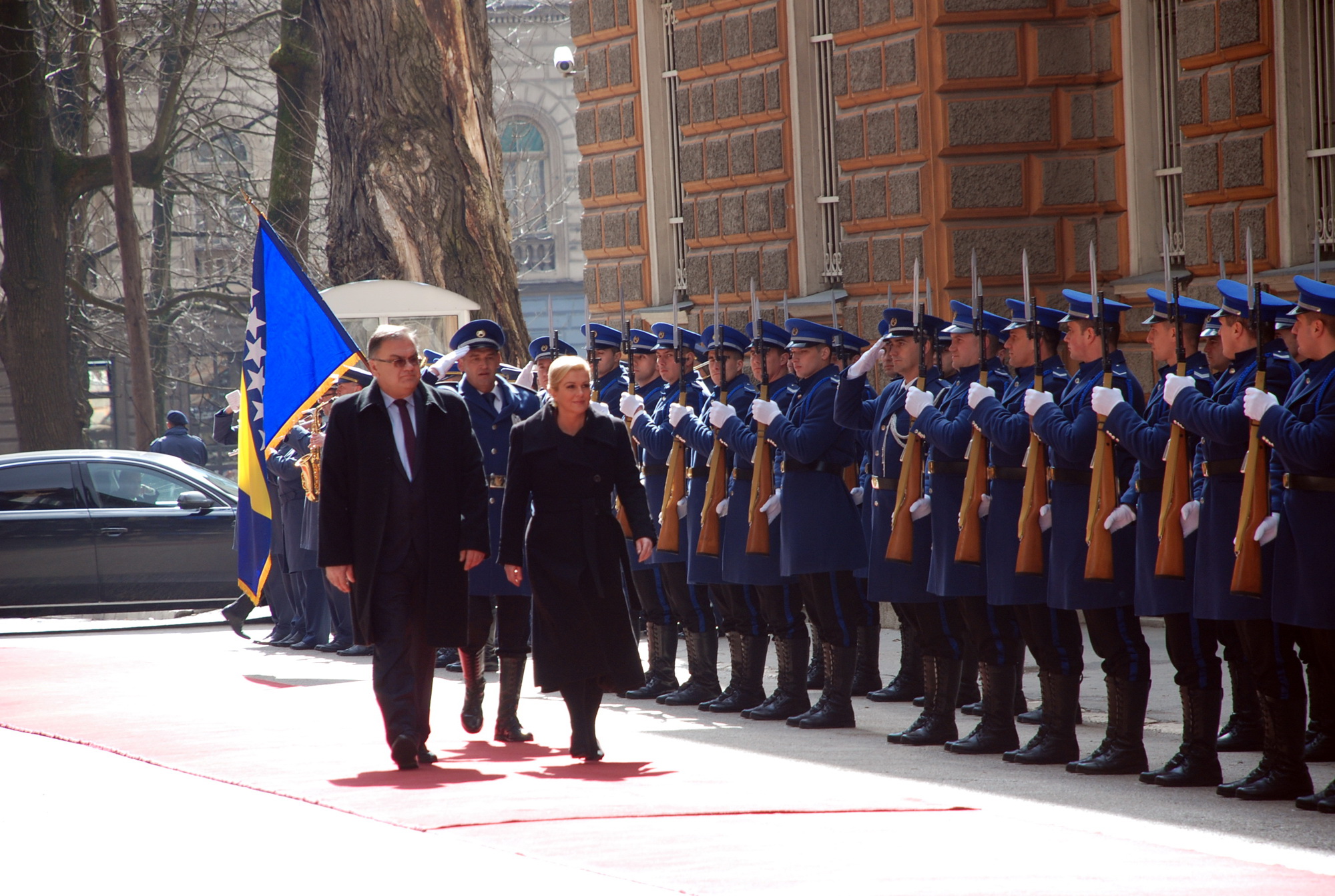 Sarajevo, March 3, 2015/ Independent Balkan News Agency
By Mladen Dragojlovic
Newly elected Croatian president, Kolinda Grabar Kitarovic, chose to visit BiH as the first foreign destination in her mandate and held several meetings with BiH officials in Sarajevo.
Chairman of BiH Presidency, Mladen Ivanic, welcomed her with state honor in the front of Presidency building in Sarajevo downtown. Then, Grabar Kitarovic went on the meeting with three Presidency members.
After the meeting, Grabar Kitarovic said that the sovereignty, territorial integrity and independence of BiH are conditions for every sort of support and institutional cooperation between the international community, that is, the US and the EU, including Croatia, with BiH. She added that her wish is that all countries in region, including BiH, become members of EU and NATO.
"The cooperation between Croatia and BiH absolutely respect the sovereignty and BiH independence, including full constitution rights of Serbs, Bosniaks and Croats, as well as the equality of other nations which live in this state", said Grabar Kitarovic.
She welcomed all efforts made by EU High representative for foreign politic and security, Federica Mogherini, in setting the path of BiH to the EU.
"Croatia will continue to support the BiH path to euro-atlantic integrations, as well as implementation of necessary reforms and building of state institutions on that path. Our two countries are and will be friends and our representatives must openly discuss all questions in order to find the best solutions for both sides", said Grabar Kitarovic on press conference in Sarajevo.
Answering a journalist's question as to whether she supports the Declaration of Croatian national assembly in BiH, which proposes an international congress on the internal reorganisation of BiH, Grabar Kitarovic said that it represents the patriotic character of Croat citizens in relations with BiH.
"I will not comment on the Declaration because it is an internal issue of BiH. Croat representatives, along with the two other constituent nations representatives, shall reach an agreement on all questions, including territorial organization, in BiH institutions", said Grabar Kitarovic.
BiH Presidency Chairman, Mladen Ivanic, said that Croatia and BiH are truly friendly countries and thanked official Zagreb for the support it provides to BiH on its path to the EU. He emphasised that German-UK initiative for reforms in BiH, which is supported by EU, have roots in Croatia. Ivanic also said that he is optimist about the future relations between two countries.